Japanese-Style Braised Iberico Pork Belly with Mustard Greens & Egg
Makes 6 Servings
WINE PAIRING
Australian Shiraz
This dish (called buta kakuni in Japanese) is classic Japanese comfort food – slow braised, ultra-tender pork belly in a sweet-savory sauce of ginger, sake & soy sauce, served with boiled egg, carrot & mustard. It's easy, relaxing, and delicious.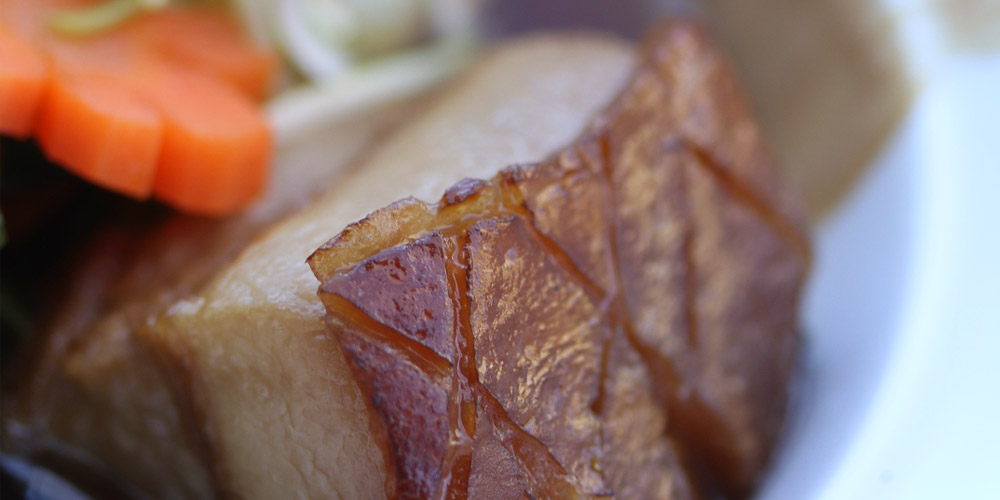 INGREDIENTS
2lbs Iberico Pork Belly, skin on

1 cup quarter-sized rounds of Fresh Ginger, skin on.

2/3 cup Sake

Greens of 1 bunch of Scallions, cut into 1" lengths

4 cups Dashi Broth

2 tbsp Granulated Sugar

2 tbsp Soy Sauce (we used Aged Tamari for depth & to keep the recipe gluten free)

1 tsp Salt

1 bunch Mustard Greens, cleaned, center ribs removed & leaves roughly chopped

1 Whole Carrot, thinly sliced

4 Eggs, steamed for 9 minutes & peeled

Mustard of Choice
DIRECTIONS
1
Preheat your oven to 275°F.
2
Score the skin of the pork belly in a cross-hatched pattern, every half-inch or so, with a knife.
3
Cut the belly into 1" deep by 1" wide chunks.
4
Brown the belly pieces, skin-side down in a hot frying pan or skillet with a small amount of oil.
5
Once the skin is browned, turn the pieces to brown the remaining sides.
6
Remove the pieces of pork belly to a baking dish. Drain the excess rendered fat out of the pan, leaving only about 1 tablespoon.
7
Add the ginger rounds to the pan & saute them in the remaining fat.
8
Once the ginger has cooked for a couple of minutes, pour in the sake & simmer to reduce it.
9
Once the sake has almost completely evaporated, add the scallion greens. Briefly saute them for a minute.
10
Pour the dashi, soy sauce, salt, and sugar into the pan.
11
Bring the liquid to a boil, then pour the mixture (ginger & all) over the pork belly in the dish.
12
Move the dish (uncovered) to the oven to braise. Check every 45 minutes, adding water as necessary to keep the belly pieces 3/4 covered with liquid.
13
Once the pork belly is almost fork tender (2-3 hours), remove the pan from the oven & add the mustard greens. Return the pan to the oven & cook for five minutes.
14
Nestle in the boiled eggs and sliced carrots. Add extra dashi until the eggs are covered. Cook for an additional 3 minutes.
15
Remove the eggs from the pan & cut them in half lengthwise.
16
Serve portions of the pork belly with egg, mustard greens & carrot with some of the broth (discard the ginger). Add a little mustard on the side for people to add to their bites as desired.