Italian Roasted Porcini Soup with Crostini & Parmesan
Makes 6-8 Servings
WINE PAIRING
Vermentino or Burgundy
This soup is rustic, hearty, filling and intensely earthy…the perfect meal to fortify you on days when the weather outside isn't the best.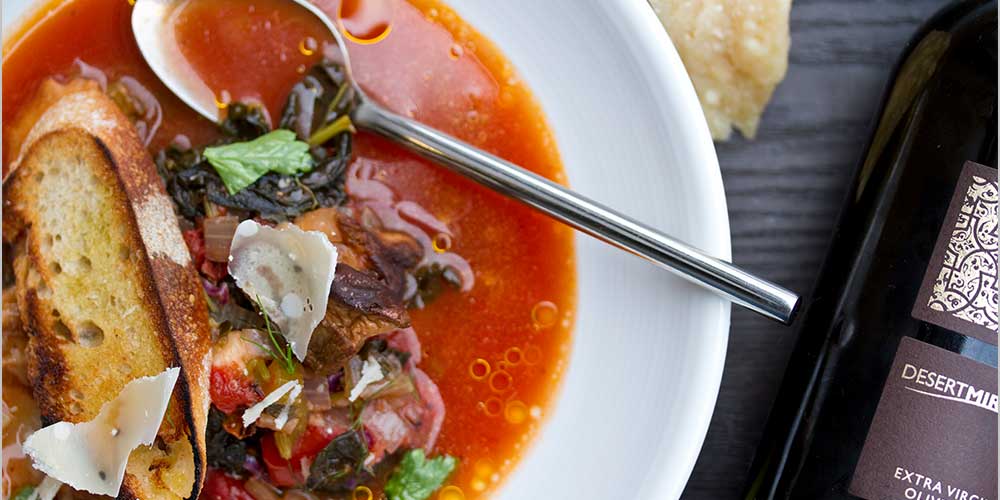 INGREDIENTS
2 cups chopped Fresh or Frozen Porcini Mushrooms (we used Frozen Italian Porcinis)
1/8oz Dried Porcini Mushrooms

1 Onion, small diced

2 stalks Celery, halved lengthwise & diced

1 Bunch Kale (we used Dinosaur Kale)

1 Bunch Fresh Parsley

2 tbsp Extra Virgin Olive Oil

½ small bulb of Fennel, small diced

3" by 1" piece of Parmigiano Reggiano Rind

28oz can Crushed Fire Roasted Tomatoes

¼ shredded Red Cabbage

¼ cup Dry Vermouth (we used Dolin)

1 ½ quarts Chicken Stock

¼ tsp Red Chile Flake

Salt & Pepper
Garnish

Baguette

Shaved Parmigiano Reggiano Cheese

Fennel Fronds
DIRECTIONS
2
Chop the stems off the parsley. Chop the stems. Reserve the leaves for garnishing the soup.
3
Remove the stems from the kale & discard them. Chop the leaves into bite-sized pieces.
4
Heat the 2 tbsp of extra virgin olive oil in a large soup pot. Add the onion, celery, fennel bulb, red chile flakes and a large pinch of salt.
5
Saute the vegetables until wilted (about 10 minutes).
6
Add the cubed fresh or thawed porcini mushrooms. Saute briefly to cook out some of their liquid.
7
Add the vermouth, parsley stems, parmesan rind, red cabbage and kale.
8
Squeeze the liquid out of the rehydrated porcini. Mince it and add it to the pot. Add the soaking liquid to the pot, holding back any sediment in the bottom.
9
Add the crushed tomatoes and chicken stock to the pot. Bring the liquid to a boil, reduce to a simmer. Let simmer for 30-40 minutes.
10
Slice the baguette on a bias. Lay the slices out on a baking sheet and brush the tops with olive oil. Broil them until toasted.
11
Serve the soup in bowls topped with a piece of toasted baguette, shaved parmesan, fennel fronds and a drizzle of fine extra virgin olive oil.
Note: If you're using a mixed bag of frozen porcini mushrooms, this recipe is a good way to use the biggest, least perfect porcinis in your batch, as they'll be pureed.