Ice Cream with Panforte Crisps and Orange Caramel Sauce
Here's another tasty way to incorporate panforte into your dessert without having just panforte for dessert. We've paired vanilla ice cream and panforte crisps with a buttery, rich caramel sauce with a subtle orange flavor.
This dish will work with fig & walnut panforte, panforte margherita, or chocolate panforte. Just pick the variety you want!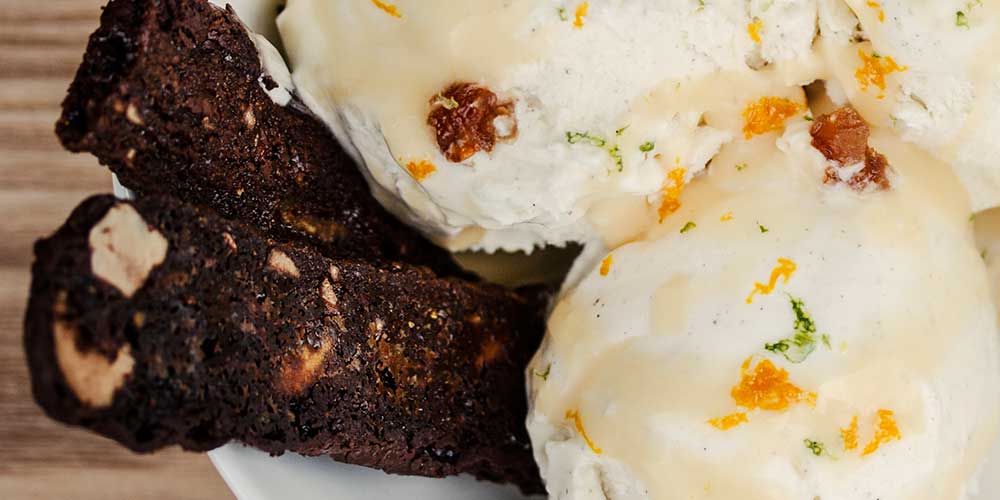 INGREDIENTS
Premium Vanilla Ice Cream of choice

4oz (roughly 1/3 cup + ¼ cup) Evaporated Cane Juice (or Granulated Sugar)

3 fl oz Heavy Cream

1 ¼ oz Orange Juice, plus extra as needed

1 ¼ oz (roughly 2 ½ tbsp) Unsalted Butter
DIRECTIONS
1
In a saucepan combine the sugar/cane juice with enough water to bring it to a wet sand consistency (4-5 tsp).
2
In a separate saucepan combine the heavy cream and butter.
3
Gently heat the cream and butter mixture until it is warm and the butter has melted. Keep it warm.
4
Heat the sugar & water mixture, without stirring, until the sugar melts and the syrup starts to turn a dark caramel color. Sugar heats faster the hotter it gets, so you want to keep a close eye on this pot.
5
Once the sugar has started to turn a dark caramel brown (at the edges) take it off the heat and very carefully whisk in the orange juice and warmed cream & butter mixture.
Note: Don't use a shallow bowl for combining the two, as when the cream is added to the sugar, the mixture will bubble up.
6
Cool the caramel sauce over an ice water bath. Taste it & add additional orange juice as necessary to thin it to your desired consistency.
7
Serve vanilla ice cream topped with the caramel sauce, with panforte crisps on the side.