Iberico Pork Shoulder Eye Steaks with Piquillo Pepper & Parsley
Makes 4 Servings
WINE PAIRING
Priorat
Meaty, rich & porky, Iberico pork shoulder eye steaks are boldly flavorful. Here they're paired with a bright gremolata-esque piquillo-parsley topping and richly savory all i oli (Catalan aioli).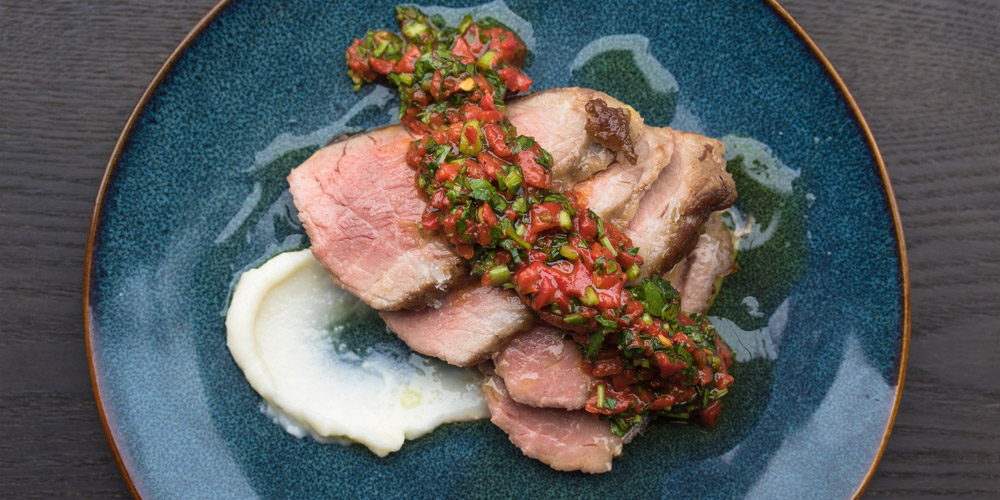 INGREDIENTS
Piquillo-Parsley Topping

3/4 Jar Organic Piquillo Peppers, drained & minced

½ cup Minced Flat Leaf Parsley (stems & leaves)

1 tbsp Chile Oil Recipe

3/4 tsp Fine Sea Salt

2 tbsp Fine Extra Virgin Olive Oil

1 tbsp Sherry Vinegar
DIRECTIONS
1
Preheat your oven to 350 degrees.
2
Combine the piquillo peppers, chile oil, parsley, fine sea salt, olive oil & sherry vinegar in a bowl. Mix well.
3
Put the tablespoon of grapeseed oil in a cast iron skillet over high heat.
4
Salt & pepper the shoulder eye steak. Gently lay it into the oiled pan, then reduce the heat to Medium.
5
Once you've seared the shoulder eye steak on all sides, move the pan to the oven & roast to your preferred level of doneness, checking their temperature & flipping them every five minutes.
Iberico pork is often served on the rare side (125 degrees) in Spain, but the USDA recommends that all pork be cooked to an internal temperature of 145°F for safety.
6
Once the shoulder eye steaks are cooked, remove them from the heat to a clean plate to rest, loosely covered with foil, for fifteen minutes.
7
Spread some of the all i oli on plates. Top it with slices of the iberico pork. Top the pork with the piquillo mixture.