Seared Iberico Pork Tenderloin with Parsley & Chile Oils
Makes 2 Servings
WINE PAIRING
Chateauneuf du Papes
Iberico pork is amongst the finest in the world.  The flavor is so amazing that it doesn't need a lot of fancy technique to achieve delicious results.  Here's a basic recipe for enjoying Iberico tenderloins.
Here we've served the tenderloin with a striking purple potato puree, but it will pair well with a huge variety of starchy & veggie sides…anything that works with conventional pork.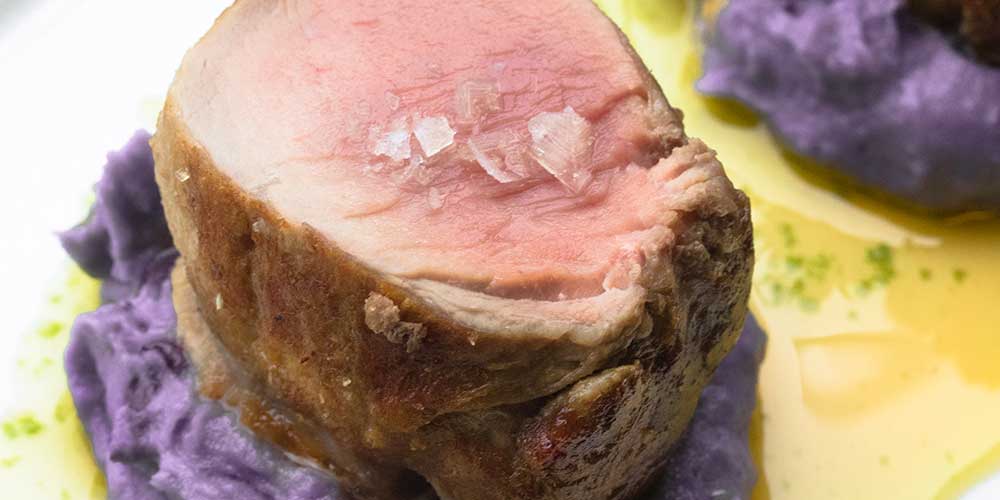 INGREDIENTS
Salt

Alaska Flake Sea Salt (could substitute other flake sea salt)
Plus:

Your choice of sides (we served it with a purple potato puree)
DIRECTIONS
1
Truss the tenderloin with butcher's twine & season it with salt (use this technique).
2
Sear it in a hot, oiled skillet over high heat, turning as necessary, until browned on all sides. Continue to cook, turning as necessary, until the internal temperature reaches your desired level of doneness.
Iberico pork is often served on the rare side (125°F) in Spain, but the USDA recommends that all pork be cooked to an internal temperature of 145°F for safety.
3
Move the seared tenderloin to a clean plate to rest, loosely tented with foil, for fifteen minutes.
4
Prepare plates with your chosen side(s).
5
Slice the tenderloin & serve it with the side(s), finished with chile oil, parsley oil & flake sea salt.