Iberico Shoulder Steak with Grilled Orange, Peppers & Boquerones Vinaigrette
Makes 4-6 Servings
WINE PAIRING
Garnacha
A fruity, citrusy, savory blend of bell peppers, oranges & boquerones (Spanish white anchovy fillets) helps balance the intense rich, buttery-ness of delectable Iberico pork in this summery dish.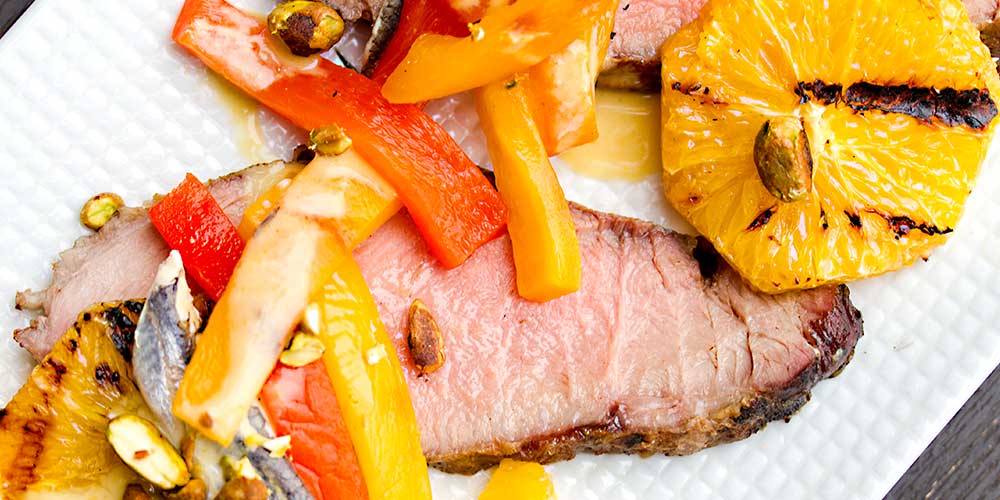 INGREDIENTS
Boquerones Vinaigrette:

1/4 cup Mango Vinegar

1/4 cup Orange Juice

Zest of 1/2 Orange

Zest of 1/2 Lemon

1 tsp Dijon Mustard

1/4 tsp Salt & Pepper

1/2 cup Olive Oil
2 Oranges, peeled & sliced

2 Oranges, cut into supremes

3 Bell Peppers (ideally one red, one yellow & one orange)

6 Boquerones (White Anchovy Fillets)

Pistachios, toasted & lightly crushed
DIRECTIONS
1
Make the Vinaigrette: Combine all vinaigrette ingredients, except the oil, in a blender & blend until smooth. Continue to blend while pouring in the olive oil in a thin, steady stream.  Once a smooth dressing forms, pour the dressing into a bowl for later use.
2
Grill the bell peppers on a hot, oiled grill over high heat, until charred on all sides.
3
Grill the orange slices until they're well caramelized on both sides.
4
Season the shoulder steak liberally with salt, then sear it on the grill to your preferred doneness (the Spanish traditionally cook Iberico to medium-rare, about 135°F, but the USDA recommends all pork be cooked to an internal temperature of 145°F for safety).
5
Move the pork to a clean plate and loosely cover it with foil. Let it rest for 15 minutes before slicing.
6
Scrape the skin off of the peppers and slice them into thin strips (batonnet).
7
Thinly slice the presa shoulder steak against the grain.
8
Lay slices of the iberico out on a plate with the grilled citrus rounds, pepper strips, boquerones, supremes & crushed pistachios.
9
Drizzle the plate with some of the vinaigrette.