Iberico Pork End Loins (Pluma) with Saffron Rice Cakes & Red Pepper Sauce
Makes 4 Servings
WINE PAIRING
Monastrell
The pluma (end loin) isn't the most beautiful cut of meat. It's pretty small and has an uneven shape (which looks a bit like a feather, hence its Spanish name) – but Spaniards consider it the best cut on the whole Iberico pig (besides the ham, which is used for curing). Sear one on the stove and you'll quickly discover why: its flavor is tops.
Here we've paired seared Iberico pluma with crispy saffron rice cakes & a roasted red pepper sauce. Eye catching & absolutely delicious.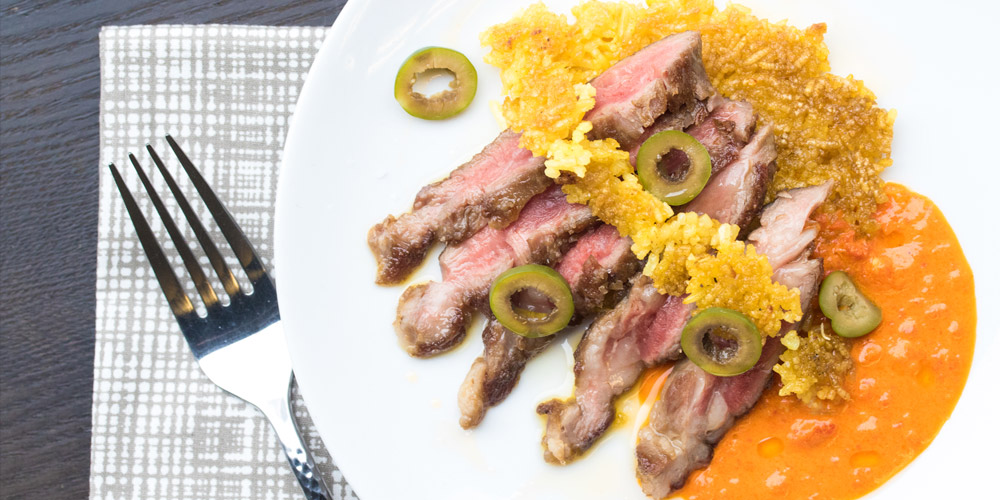 INGREDIENTS
Rice

½ tsp Salt

1 big pinch Saffron Threads

1 tsp Extra Virgin Olive Oil

1 2/3 cup Water

1 cup Saffron Rice
Sauce

1 Roasted Red Pepper (jarred is fine)

2 tbsp Extra Virgin Olive Oil

1 tsp Gran Reserva Sherry Vinegar

2 pinches of Salt

1 tsp Organic Native Forest Honey (could substitute other honey)
4 Pitted Castelvetrano Olives, sliced

Extra Olive Oil to finish
DIRECTIONS
1
Combine all the rice ingredients in a small pot. Bring the liquid to a boil, then reduce the heat to a simmer. Cover the pot & simmer for 20 minutes.
2
Remove the pot from the heat and let the rice rest, covered, for an additional five minutes before removing the lid & fluffing the rice with a fork.
3
Spread the rice out in a thin layer in a baking pan. Move it to the fridge overnight, or the freezer for a shorter period of time, until chilled.
4
Trim the silverskin and any very large pockets of fat off of the end loins (
how to remove silver skin
). Season them with salt.
5
Sear the end loins in a hot, oiled skillet over high heat until cooked to your preferred doneness (they will cook quickly).
6
Iberico pork is often served on the rare side (125 degrees) in Spain, but the USDA recommends that all pork be cooked to an internal temperature of 145°F for safety.
7
Move the end loins to a plate & loosely cover them with foil. Let them rest while you cook the rice cakes and/or make the sauce.
8
Form the rice into flat patties. Add them to the oiled skillet. Cook them (flipping once) until the top and bottom are crisped & well browned.
9
You can do this while cooking the end loin if you have room in the pan. Flatten them out against the bottom of the pan as they're cooking.
10
Once the rice has browned, put the cakes on serving plates.
11
Blend together all the sauce ingredients until smooth.
12
Thinly slice each end loin and fan the slices out across the top of the rice cakes on each plate.
13
Finish each plate with some of the sauce & olive slices. Drizzle over some chile oil and extra virgin olive oil.