This soup is rich, earthy, and creamy. The paprika isn't enough to make the soup spicy, but just to add a pleasant warmth which, coupled with acidity of the lemon juice & sherry vinegar, helps keep the soup balanced.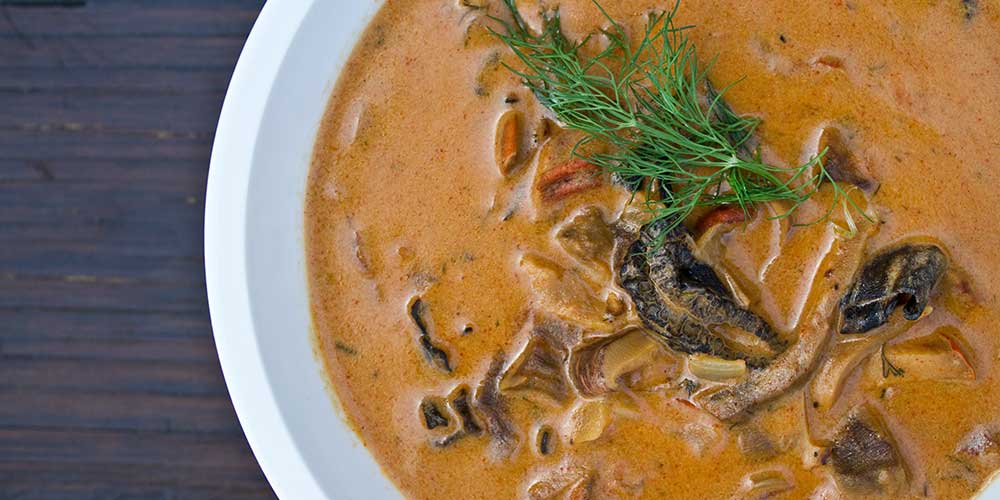 INGREDIENTS
1 oz. Dried Wild Mushrooms Mix, reconstituted with soaking water reserved (you could substitute any dried wild mushrooms except chanterelles)

4 Tbs. Butter

4 Tbs. Flour

2 ½ cups Water or Stock

4 cups Milk

2 cups Chopped Onion

1 Tbs. Fresh Lemon Juice

1 cup Sour Cream

4 tsp Paprika

2 tsp Dill Weed

2 tsp Salt

1 tbsp Sherry Vinegar
DIRECTIONS
1
In a medium saucepan, lightly sauté the onions in butter until translucent, add the flour and cook, while stirring, for 2-3 minutes.
2
Slowly whisk in mushrooms and their soaking water and cook over medium heat until thickened.
3
Add milk and paprika and simmer another 2 or 3 minutes.
4
Whisk in 1/2 cup of the sour cream, then add the remaining ingredients.
5
Serve garnished with a dollop of sour cream.