HOW TO STEAM CLAMS & MUSSELS
The simple, humble steamed clam or mussel is a delight either eaten by itself or used as an ingredient in dishes. This basic technique will work with any variety of live clams or live mussels.
INGREDIENTS
INGREDIENTS:
Olive oil


Shallots

Dry white wine
DIRECTIONS
1
(Optional) To give mussels extra flavor & color as well as a creamier texture, soak them in flour before steaming them. (See
how to prep mussels
)
2
Heat a thin layer of oil in a coverable wide pan.
3
Add some finely chopped shallots and cook until soft.

4
Lay in your clams or mussels.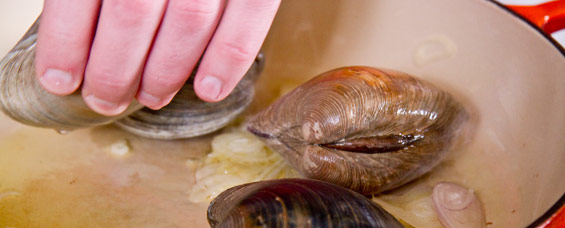 5
Pour in enough white wine to coat the bottom of the pan.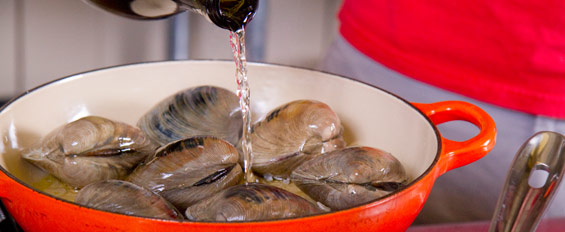 6
Cover the pot and cook just until the shellfish have opened. (The amount of time will depend on the type & size of shellfish used.) Be careful not to overcook them, lest they become tough. Discard any that refuse to open.

7
Remove shellfish and strain the liquid in the pan through a fine mesh sieve or chinois. Reserve for use in soups, pasta dishes, etc.