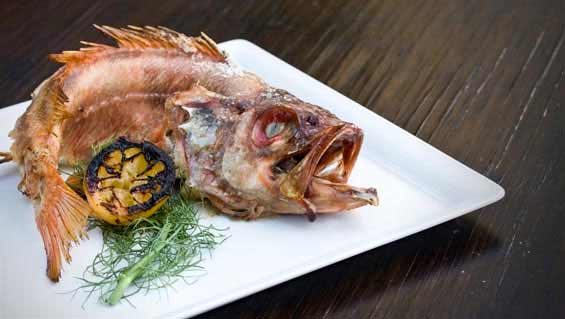 Pictured: Pan Roasted Whole rockfish (aka red snapper)
Roasting is a easy way to prepare small or medium whole fish in a provocative and tasty manner suitable for platter presentation.
Ingredients:
One small whole fish (rainbow trout, bass, red snapper, bronzino, or other small fish)
½ lemon for the pan
Cooking oil
Fresh thyme or additional lemon (optional)
Whole Fish Roasting Directions:
1.  If the fish isn't gutted, slit the belly.  Then remove the innards and rinse thoroughly.
2. Rinse off the fish and season the cavity with salt and pepper. You can also stuff the fish's cavity with thyme and lemon if you want. 
3.  Using a small knife punch a hole in the fish's tail.  
4.  Run a skewer through the tail and into the body just behind the gills so that the tail is parallel to the head. 
5.  Season the fish liberally with salt. 
6.  Heat up a large cast iron skillet on the stove and add olive oil.  Once the oil is hot, stand the fish up in the skillet, searing the bottom.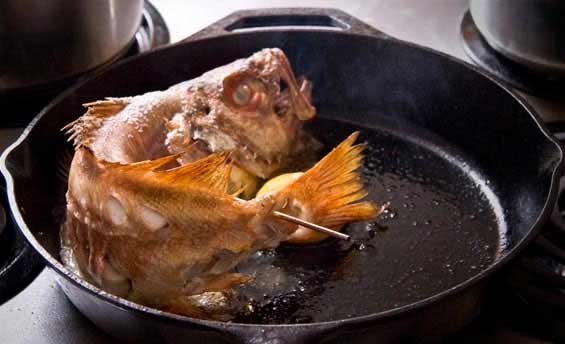 7.  Squeeze the half lemon's juice over the fish, then drop the lemon in the pan, and move it to a 450 degree oven.
8.  When the exposed flesh is opaque, the fish is ready (about 15 minutes later, depending on the size of the fish).  Move to the serving platter, then remove the skewer. 
9.  Garnish with either the roasted lemon or fresh lemon slices and fresh dill or fennel.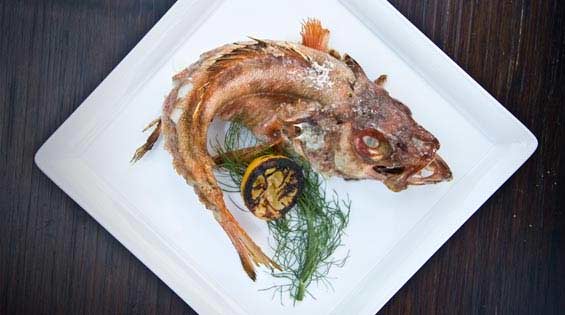 Sauce, such as tomato anchovy vinaigrette, can be served on the platter in a ramekin.
___________
Browse More:
Whole Fish Recipes
Seafood Recipes
Culinary Techniques