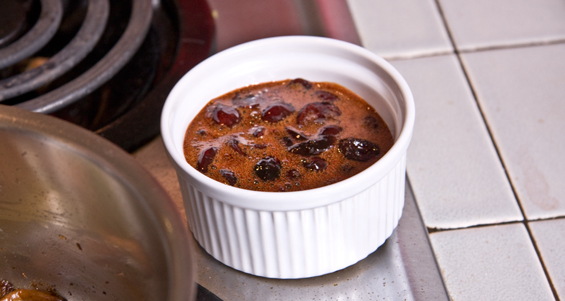 What is a gastrique?
A gastrique is a vinegar and sugar based sauce that can be used for either savory or sweet dishes as it is designed to bridge the gap between the two.
How to make a gastrique:
This technique can be adapted to use any vinegar.  Good balsamic vinegars are often used but you can also use wine vinegars or fruit vinegars.  For this post we are making a Cranberry Port Gastrique which pairs wonderfully with venison meat.
Ingredients:
1 cup granulated sugar, superfine sugar, or organic evaporated cane juice
~ 1 cup water
A handful of dried cranberries or dried black cherries
1.25 cup ruby port
1/3 cup red wine vinegar
Cooking procedure:
Make a simple caramel
1.  Mix the sugar and enough water (near a cup) to reach the consistency of wet sand in a saucepan.

2.  Bring to a boil and cook, boiling out the water, until the mixture begins to take on color.

Keep in mind, the more water is boiled out, the less the heat of the sugar is confined by the boiling point of water. The hotter the sugar gets, the faster it cooks. It is possible for some of the sugar to caramelize faster than the rest. If you see darker spots developing in your caramel, give it a gentle stir to incorporate them, giving you a better idea of how dark the caramel is as a whole.
Safety Warning:  Cooked sugar (be it for caramel, candy, brittles, meringues, sugar art, etc) is dangerous stuff. It is very sticky and will burn you badly if it touches your skin. Please be extremely careful.
Build the sauce
1.  Remove the caramel from the heat and gently (no splashes) add a handful of diced dried fruit.
2.  Return to the heat and drizzle in the red wine vinegar.  Allow the mixture to reduce slightly.

3.  Remove the sauce from the heat again and add the port, return to the stove and reduce. Pull from the heat when the gastrique has reached the napper stage (when it just coats the back of a spoon without running off, and running your finger through it leaves a clean stripe of visible spoon).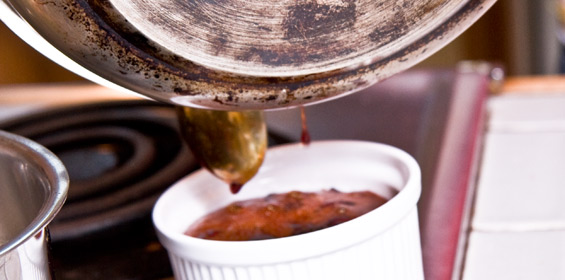 The gastrique will continue to thicken as it cools.
Use to sauce your dish (or put it on the side for dipping purposes) and serve.
___________
Browse More:
Vinegar Recipes
Berry Recipes
Dessert Sauce Recipes
Dessert Recipes