are six basic steps to braising Osso Bucco (be it grain-fed veal osso bucco, venison osso bucco, or antelope osso bucco). What follows isn't a recipe, per se. It's more of a how-to…the general technique and ideas of improvisation. Aside from the braising liquid of your choice (check out these braising liquid recipes), you'll need a dutch oven or some sort of cookware that you can use on the stovetop and in the oven. Though it takes a few hours to braise osso bucco, only about 25 or so minutes of work is involved…the rest is just slow cooking in the oven.
This recipe works for as many or as few pieces of osso bucco that you care to put in your dutch oven. The great thing about veal osso bucco is that it comes individually vacuum sealed. So, simply take out the number of pieces that you want, and get started with the below how-to:
Basic Steps:
1. Pat the osso bucco dry.

2. Season the meat with salt and pepper.

3. Sear the meat for about 3 minutes on each side in a hot pan with a high temp oil, such as canola, peanut, grapeseed, or clarified butter. You'll know the meat is seared when it releases easily from the pan and has a nice brown color. Searing the meat before braising carmelizes and adds texture.

4. Once seared, remove from pan.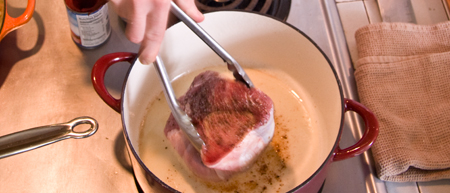 6. Transfer braising pan to oven at 325 for about 3 hours, or until the meat is fork tender.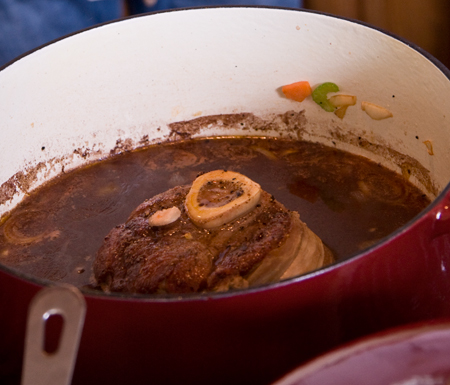 ___________
Browse More:
Braising Liquid Recipes
Osso Bucco Recipes
Veal Recipes
Venison Recipes
Meat Tips & Techniques
Culinary Techniques