Christo from ChezWhat, who is never short on innovation, is back with a trio of dill pollen appetizers…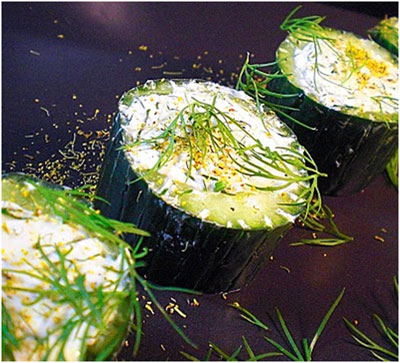 Ask ten people what goes good with dill, nine of them are going to say cucumbers and the tenth one will say salmon. Since majority rules I am going with cucumbers (but that doesnt mean I wont be doing a salmon thing later)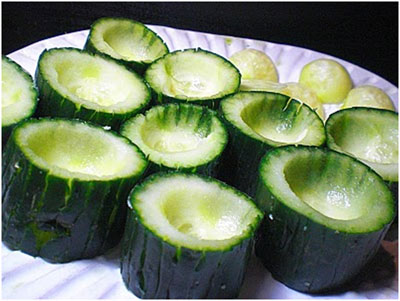 Cucumber cups with dill pollen cream cheese are more a preparation than a recipe. With your melon baller scoop out the center of a one inch to one and a half inch slice of cucumber. I scored the skins with a fork but if you would like to peel them partially or all the way it is up to your taste – I like the extra crunch of the skin. Mix some cream cheese and dill pollen together and set aside.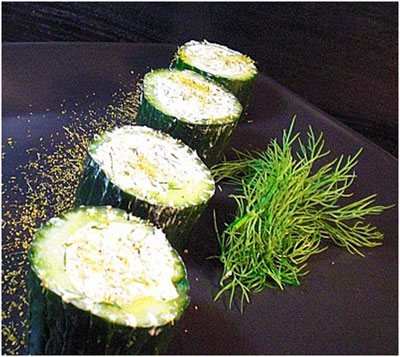 Fill the cups with the softened cream cheese, sprinkle a little dill pollen and fresh dill to make an amazing appetizer.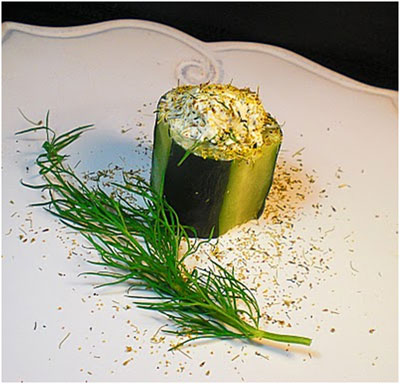 You could also plate them up individually for a very crisp and cool amuse bouche.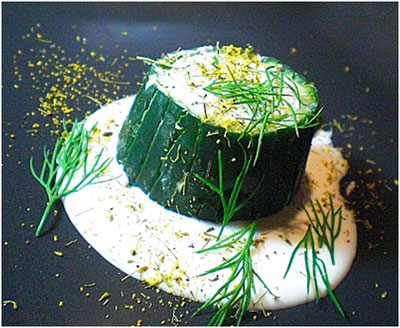 A little creme fraiche and a cucumber cup with dill cream cheese is a lesson in simple sophistication.
Now for the salmon and I fudged it a bit and included cucumber, simply slice some cucumbers and alternate salmon between the slices and serve with dill pollen, fresh dill and creme fraiche. It doesnt have to be complicated to taste complex.
___________
Browse More:
Cheese Recipes
Salmon Recipes