Grilled Wild Boar Tenderloin with Chile Dry Rub and Tropical Fruit Salsa
Wild boar meat has a much more robust flavor than conventional pork, so it holds up well to chile spice rubs without being overwhelmed. The fresh tropical fruit salsa served on the side allows your guests to cool down their mouths if the spice levels get too high with its balance of sweetness and tart acidity.
We recommend using a blend of dried chilies to make your own chili powder so the result is a complex blend of layered spice and fruitiness. For this application we used we used 1 tsp dried Tepin chilies, 1 tsp dried New Mexico chilies, 1 tbsp Aji Panca chilies, ½ tbsp Aji Amarillo chilies, and ½ tbsp Chipotle chilies.
For a complete listing (with flavor profiles and heat levels) of all the chilies we offer, so you can develop your own chili powders and rubs, please visit our chile pepper heat scale.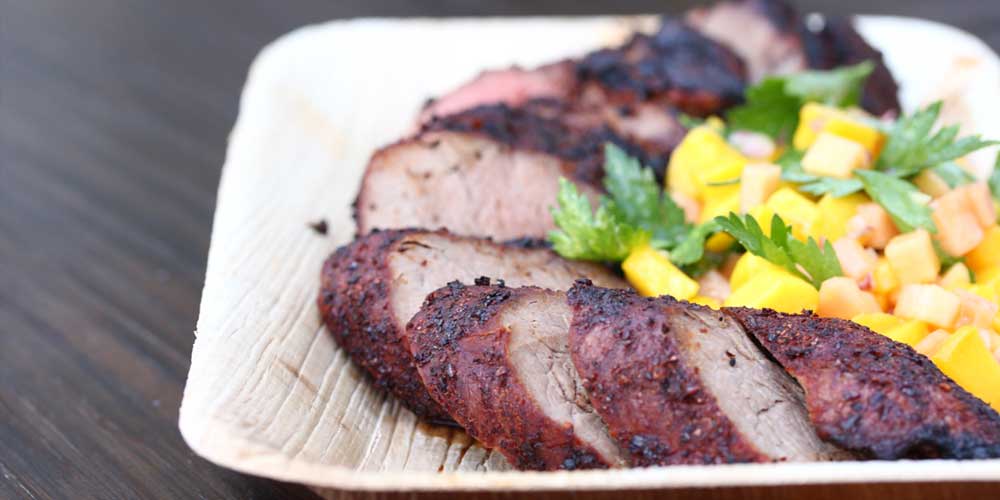 Pictured: Chile Rubbed Wild Boar Tenderloin with Tropical Salsa on a Palm Leaf Plate
INGREDIENTS
Tropical Fruit Salsa Ingredients:

1 Mango

1 small Papaya

½ Shallot

1 small handful fresh Parsley or fresh Cilantro

2 tsp Rice Wine Vinegar

1 tsp Apple Cider Vinegar

2 tbsp Olive Oil

Salt to taste
DIRECTIONS
1
Trim any remaining silverskin or excess fat from the wild boar tenderloins. Dry off all surface moisture.

2
Make the spice rub by mixing chili powders and salt.

3
Put the tenderloins in a large bowl with the spice rub and coat them. Cover and let sit in the bowl, in your refrigerator, for at least three hours (ideally overnight).

4
Wash & trim the skin off of the mango and papaya. Carefully remove the pit from the mango and scoop the seeds out of the papaya using a large spoon.

5
Cut the fruit into medium cubes, and very finely dice the shallot. Pull the leaves off of the parsley stems.

6
Combine the fruit in the bowl with the diced shallot, parsley leaves, vinegars, salt & olive oil. Let sit covered in your fridge for the flavors to meld while you cook the wild boar meat.

7
Heat, clean, and oil your grill.
8
Grill each boar tenderloin for about 15 minutes, flipping them halfway through the cooking time.
9
Let the tenderloins rest for five minutes off of the grill before carving. Slice each tenderloin and serve several slices alongside the tropical fruit salsa.