Grilled Sardines with Charred Ramp Vinaigrette
Fresh sardines are high in healthy omega-3 fatty acids and (because their bones are edible) calcium. Unfortunately, despite their health benefits and popularity elsewhere in the world, most Americans are afraid of their fishiness. Fresh sardines are often less fishy than the ones you find in the can, and grilling them, then adding a tasty vinaigrette makes them positively tasty.
Drink Pairings: Manzanilla Sherry or Tocai from Friuli
Ingredients:
2 Fresh Sardines per serving
½ cup Champagne Vinegar
½ Shallot, minced
12 Wild Ramps, cleaned (how to clean ramps) (if ramps are not available, use scallions as a substitute)
1 cup of Olive Oil, plus enough to coat
Directions:
1. Cut some of the green tops off the ramps, but leave the rest attached. Place in a bowl and lightly coat with olive oil, salt and pepper.
2. Grill just until the green tops are lightly charred.

3. Roughly chop the ramps.
4. Toss the chopped ramps with the shallot and vinegar. Let sit to macerate for a few minutes.
5. Drizzle in the cup of olive oil while whisking constantly, until a smooth emulsion is formed.

6. Heat, clean and oil your grill.
7. Gut the sardines, but leave the heads on. Coat them with salt, pepper, and olive oil.
8. Grill the sardines: Put them on the grill and don't touch them until they've developed a strong sear, then give them a 45 degree turn and continue to grill. After about 2 ½ minutes total, flip them and repeat with the other side.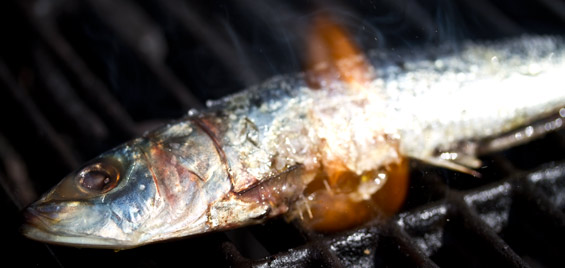 9. Serve the sardines whole, topped with the charred ramp vinaigrette.

___________
Browse More:
Seafood Recipes
Ramps Recipes