Grilled Black Cod with Truffled Peas & Pancetta
Grilled black cod steaks served with fresh sweet English peas tossed with pancetta and earthy black truffle butter. If you love cod, it doesn't get much better than this.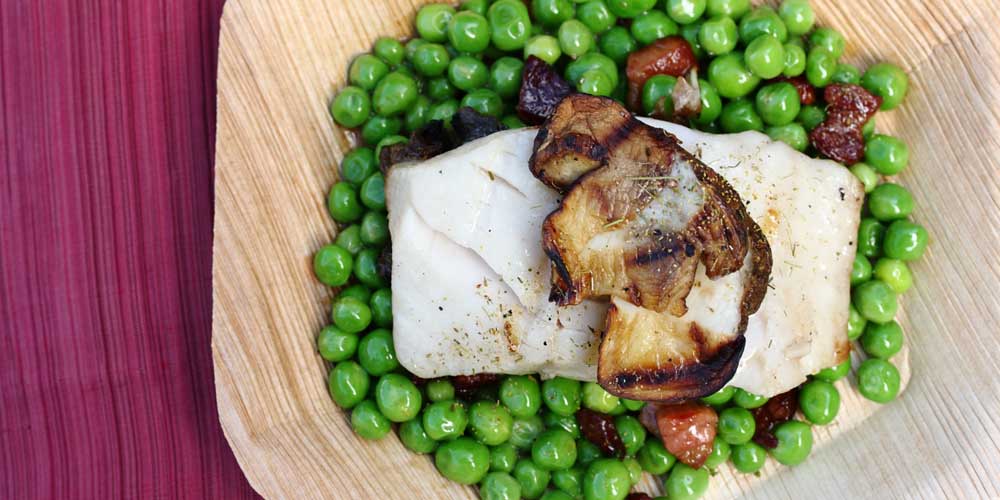 DIRECTIONS
1
Make an ice water bath in a separate bowl.
2
Put the peas in boiling water just until they turn bright green, about 45 seconds. Immediately strain them out and dump them in the ice bath to stop the cooking process and fix their color (this is called "shocking").
3
Cut the pancetta into cubes. Sauté it in a large frying pan to render out all the fat.
4
Rub the black cod steaks with oil & salt. Grill them on a hot, well oiled grill, skin side down first. When the bottom half of each cod steak has turned opaque and is firm, flip it and finish the other side.

5
Add the peas and the truffle butter to the rendered pancetta and toss over medium heat just until the peas are warmed through and coated with the melted butter. Season with salt & pepper.
6
Plate the grilled black cod steaks with the peas and garnish the cod with a pinch of dill pollen. In the picture, we also added a couple slices of
grilled porcinis
.