Green Risotto with Favas, Peas & Rabbit
Makes 4 Servings
WINE PAIRING
White Bordeaux
This striking green risotto is packed with flavor (and nutrition). We've omitted the traditional parmesan cheese here to let the flavors of the herbs & greens shine through, but you could totally put it back in if you wanted to. Stirred into the risotto are juicy peas & creamy blanched fava beans, which add texture without disrupting the visual effect.
Top that with a slow-cooked sous vide rabbit leg and you're in business (though you could omit the rabbit & swap vegetable stock in for the chicken broth if you wanted a vegetarian version).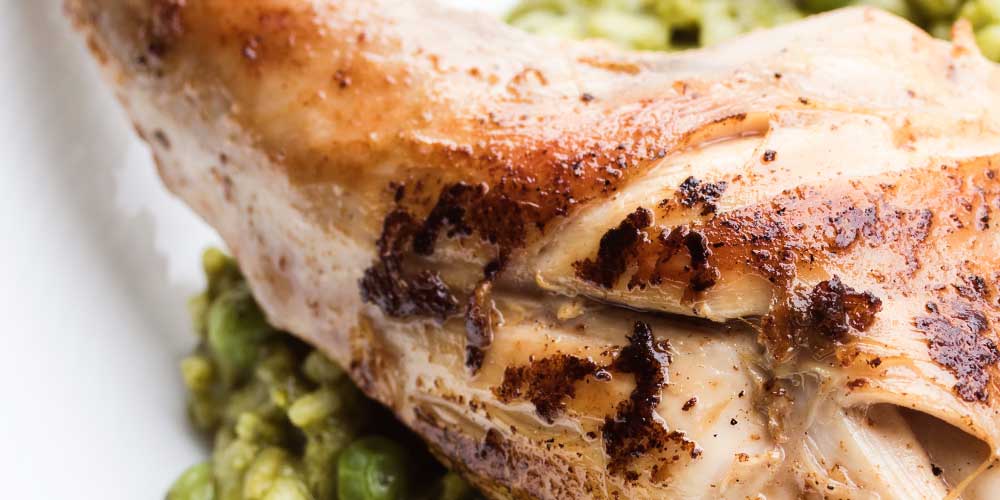 INGREDIENTS
Green Broth:

1 cup Arugula Leaves

3 cups Spinach

2 cups Watercress

1 cup Parsley

4 1/4 cups Low Sodium Chicken Stock/Broth (could substitute vegetable stock)
1lb Fava Beans

½ cup Leek, small diced

½ cup Onion, small diced

1 pinch Salt

2 tbsp Extra Virgin Olive Oil

2 cups Vialone Nano Rice

½ cup Dry White Wine

1 tsp minced Tarragon

½ cup Frozen Peas

¼ cup Unsalted Butter

1 tbsp Lemon Juice

Honey to Taste

High Heat Oil
DIRECTIONS
1
If Cooking the Rabbit Sous Vide, preheat your water bath 145°F. Season the rabbit legs with salt, vacuum pack them, and lower them into the bath.
Once the bath returns to temperature, start your timer & cook for 4 hours.
2
Combine the broth ingredients in a blender and blend until very smooth.
3
Shuck the fava beans. Blanch the beans in boiling water for 2 minutes, then scoop them out & into an ice bath to shock them.
4
Take the fava beans out of the bath. Pinch off a corner of the skin (or gently slit it with a paring knife) on each one, then squeeze the bean out of the skin.
5
Sweat
the leek & onion in a hot, oiled skillet or frying pan over medium low heat, until translucent.
6
Pour in the rice & stir to coat it with oil & toast it until it smells nutty.
8
Remove the rabbit legs from the sous vide bath & their vacuum bags. Dry off any surface moisture.
9
When the rice is almost cooked, stir in the tarragon, peas, and peeled fava beans.
10
Continue to cook. When the rice is done, stir in the lemon juice. Taste & add honey and additional salt as necessary.
11
Sear the legs in a very hot, oiled frying pan until they're well browned on all sides. You don't want to cook their interior any further, you just want a nice brown, caramelized crust.
12
Serve the risotto with a rabbit leg for each serving.