Grass-Fed Ribeye Steak & Eggs
Makes 2 Servings
WINE PAIRING
Super Tuscan
Classic steak & eggs re-imagined to blow your mind with sous vide ribeyes, caramelized onion butter, duck fat fried potatoes, and a rich red wine demi-glace sauce.
If you don't have a sous vide setup, you could also season the steaks with salt & pepper and cook them using conventional methods (How Chefs Cook Steaks). The onion butter can also be omitted to make this recipe lighter & faster. If you do make it though, you'll end up with extra that can be frozen for delicious later use!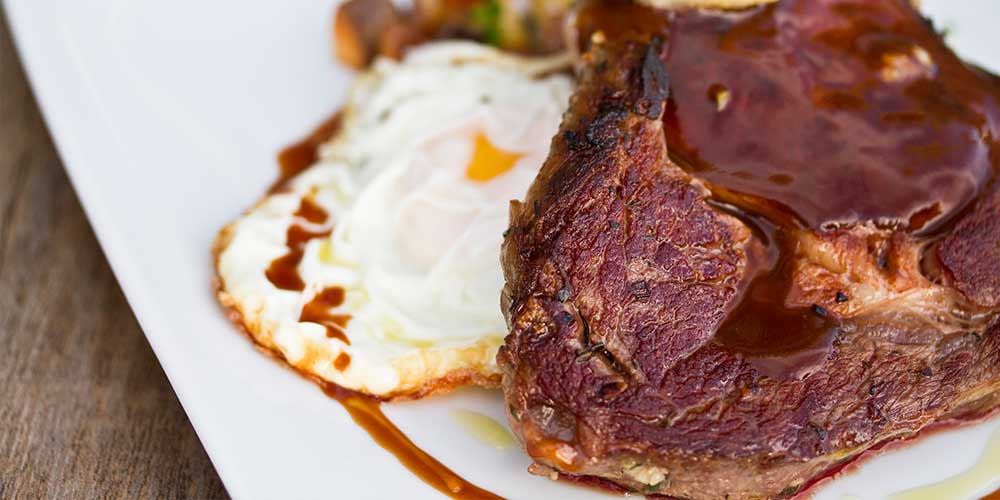 DIRECTIONS
1
Make the Onion Butter:
Slowly
caramelize the sliced onions
. Add them to a food processor with the 1/2lb of butter, sage, and salt to taste. Process into a uniform butter & reserve in the fridge until you need it.
This step can be done a day or two ahead of time (even longer if you freeze the butter).
2
Preheat your sous vide bath to 120F.
3
Melt the stick of butter in a pan, then add the garlic and salt. Sweat the garlic until translucent. Remove it from the heat and add the rosemary, thyme, chives & sage.
Once the mixture has cooled somewhat, add the parsley.
4
Coat the steaks with the melted butter and herb mixture. Let the butter cool until it re-solidifies into a paste, then vacuum bag them.
5
Once the sous vide bath reaches 120, load the steaks into it and cook for 1-4 hours (whatever length of time in that window that suits your schedule).
6
Make the Red Wine Sauce:
Sweat
the shallots and bay leaf in a tsp of olive oil over medium-low heat until translucent.
Deglaze the pan with the red wine. Add a few grinds of black pepper. Simmer to reduce the wine until it has almost evaporated.
Strain the wine from the shallots into a separate frying pan. Add the reconstituted Demi Glace Gold, beef stock, thyme, rosemary, chives, sage, Worcestershire sauce and salt & pepper to taste.
8
Fry the Eggs:
Get a frying pan with a thin layer of duck fat hot on the stove (you can use leftover duck fat from cooking the potatoes).
Crack in the eggs and fry them to your desired level of doneness, basting with the duck fat.
9
Get a high heat oil (canola, peanut, grapeseed) very hot in a large frying pan or cast iron skillet & sear the steaks on all sides.
10
Plate the steak with the potatoes, fried eggs, sauce and a
quenelle
/spoonful of the caramelized onion butter. Serve.