Grass-Fed Angus Burgers w/ Tomato Jam
Makes 4 Servings
WINE PAIRING
Syrah
This burger is packed with bold, deep flavors – beefy grass-fed angus patties with crumbled blue cheese, homemade herbed tomato jam and slow-caramelized onions. Delish!
This recipe makes extra caramelized onions (about twice what you need), so you'll have extra to use in other recipes.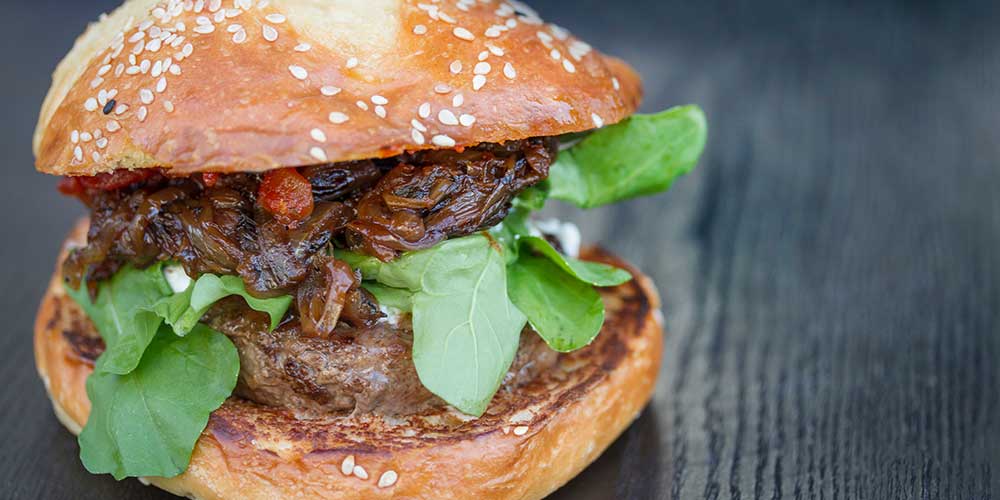 INGREDIENTS
4 Burger Buns (we used Brioche Buns)

2 tbsp Olive Oil

2 Onions, thinly sliced

½ tsp Salt

½ cup Water

1-2oz Blue Cheese, crumbled

Arugula

Salt & Pepper

High Heat Oil (canola, grapeseed, peanut, etc)

Optional: Mayonnaise
DIRECTIONS
1
Put the olive oil in a large frying pan or skillet over medium-high heat.
2
Add the onions and the salt, then saute for about five minutes.
3
Add the water, cover the pan, and turn the heat down to medium-low. Simmer for fifteen to twenty minutes.
4
Remove the lid and continue to cook the onions over medium-low heat, stirring occasionally, until well caramelized (about 20 more minutes).
5
Optional: Toast the buns.
6
Season the burgers with lots of salt & pepper. Sear them in a hot, oiled frying pan or skillet over high heat until they're browned on one side, then flip them and continue to cook to your desired level of doneness* (use a thermometer to check).
You could also grill them instead.
7
When the burger patties are almost cooked through, top each one with a quarter of the blue cheese and let it start to melt.
8
Optional: Spread some mayo on both sides of the buns (for flavor and to keep them from getting soggy).
9
Spread a heaping tablespoon of the tomato jam on each top bun.
10
Put the burger patties (with cheese) on top of the bottom buns.
11
Top the blue cheese with arugula, then some of the caramelized onions.
* The USDA recommends all ground meats be cooked to an internal temperature of 165.