Makes 4 Appetizer Servings
WINE PAIRING
Riesling or Sparkling White Wine (Cremant, etc)
Geoduck siphon meat has a crisp, slightly crunchy texture and is delicious served raw. Here it's dressed with orange oil and tarragon oil, then garnished with orange, tarragon, and fresno pepper for a refreshing & intriguing blend of colors and flavors.
The finished dish is light, sweet, herby, and slightly spicy without overpowering the clam-flavor of the geoduck. It makes a beautiful appetizer.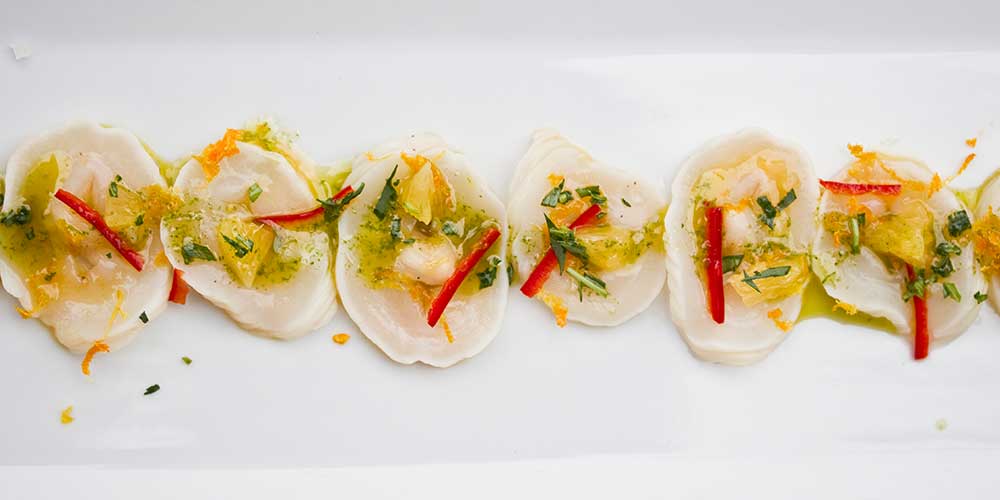 INGREDIENTS
Orange Oil:

Juice of 1 Orange

1 tbsp Extra Virgin Olive Oil
Tarragon Oil:
1/2 bunch of Fresh Tarragon

1/2 cup Extra Virgin Olive Oil

Pinch of Salt
DIRECTIONS
2
Cut the red fresno pepper in half. De-stem & deseed it. Very thinly slice into half moon shapes.
3
Make the Orange Oil: Add the orange juice to a sauce pan and reduce until thickened to 2 tsp (if you accidentally over-reduce, add a little water to the pan and swirl to deglaze). Stir in the olive oil and let cool to room temperature.
4
Make the Tarragon Oil:
Blend the tarragon in a blender, pouring in the olive oil until a puree forms. Blend in the salt.
Note: To protect your oil's color, make sure the mixture doesn't get hot from the blender engine (if it starts to warm up, stop the blender briefly to let it cool).
Strain the tarragon oil through a fine mesh strainer into a bowl over ice.
5
Thinly slice the geoduck siphon meat on the bias. Check the slices for any embedded sand and rinse in cold water if necessary.
6
Lay the geoduck slices out flat on a plate. Sprinkle each piece with orange zest, minced tarragon, orange supremes, sea salt and the sliced fresno pepper.
7
Drizzle with the tarragon oil and the orange oil. Serve.