Alligator Katsu w/ Hijiki Cucumber Salad
Makes 4 Servings
WINE PAIRING
Pinot Blanc
Lightly breaded pan-fried alligator katsu with ponzu sauce and a black sesame, hijiki and cucumber salad. This is the lighter, brighter side of alligator (as opposed to slow-cooked, stewed alligator).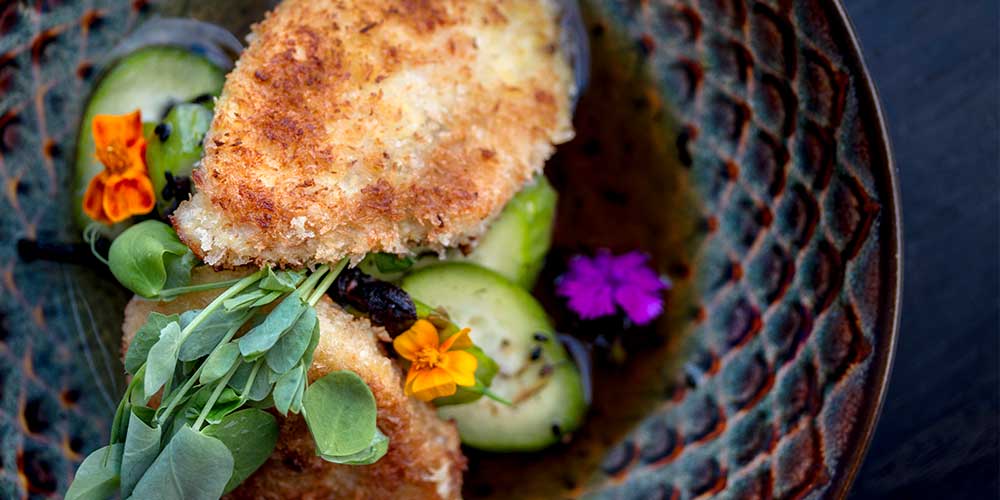 INGREDIENTS
2 Eggs

½ Cup All Purpose Flour

1 Cup Panko Breadcrumbs

4 Persian Cucumbers or 1 English Cucumber

2 tbsp Dried Hijiki Seaweed

2 tbsp Black Sesame Seeds

1/4 Cup + 3 tbsp Homemade Yuzu Ponzu or a blend of Yuzu Ponzu Base & Tamari Soy Sauce

High Heat Oil
Optional Garnishes:

Pea Shoots
DIRECTIONS
1
Rehydrate the dried hijiki by soaking it in boiling water for 15 minutes.
2
Beat together the two eggs in a wide container with 1 tbsp of cold water.
3
Pour some of the all-purpose flour into another wide container.
4
Pour the panko breadcrumbs into another wide container.
5
Slice the alligator into ¼" thick slices.
6
Dip each alligator slice in the flour, then the egg, then the panko.
7
Pour a ¼" deep layer of high heat oil into a high-sided frying pan or skillet. Heat it just until a piece of panko dropped into the oil sizzles.
8
Pan fry the alligator slices, flipping once, until both sides are golden brown and crispy.
9
Drain the alligator slices on paper towels.
10
Cut the cucumbers into ¼" slices on the bias.
11
Lightly toast the black sesame seeds, stirring constantly, over medium-high heat until they smell nutty (approx. 1 minute).
12
Put the cucumber slices in a bowl. Sprinkle in the sesame seeds and drizzle in the ponzu.
13
Chop the hijiki. Toss it with the cucumber.
14
Serve the alligator with the cucumber salad.