Makes 4-6 Servings
WINE PAIRING
Rose Wine
A comforting, home-y alligator stew with peppers, herbs and bourbon.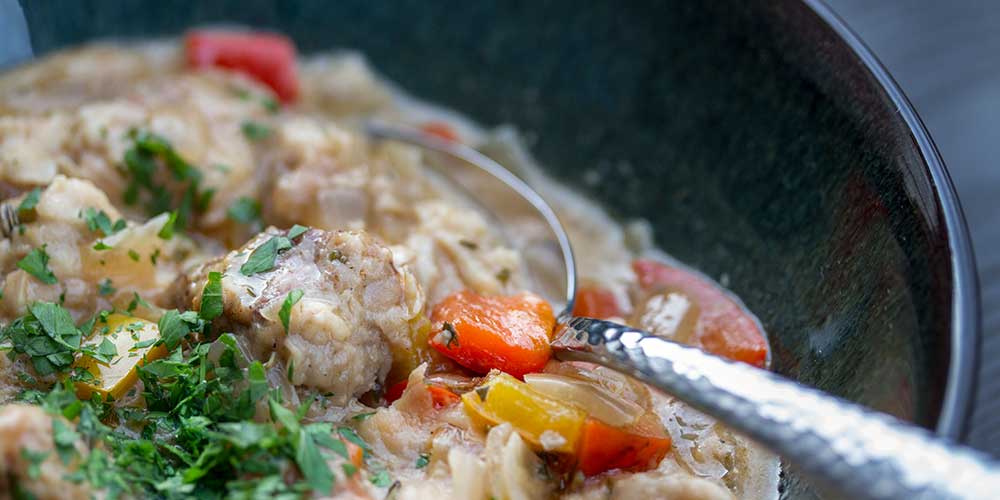 INGREDIENTS
1 Onion, chopped

1 Red Pepper, cored & chopped

1 Yellow Pepper, cored & chopped

1 tbsp minced Rosemary

1 tbsp minced Thyme

1 tsp Honey

½ cup Bourbon

2 cups Chicken Stock

1 tsp Fennel Seeds (we used wild fennel seeds)

2 tbsp of Butter

2 Bay Leaves

¼ tsp Cayenne Pepper

1 tbsp chopped Fresh Parsley

¼ cup Heavy Cream

All Purpose Flour

Salt
DIRECTIONS
1
Cut the alligator into 1" cubes.
2
Mix the flour with some salt. Toss the alligator in the flour mixture to lightly coat.
3
Get an oiled stock pot hot over high heat. Brown some of the gator meat on all sides.
4
Remove the browned alligator meat from the pan, wipe the bottom of the pot, add more oil, and repeat with the remaining gator.
5
Clean the pot out again. Add more oil to the pan along with the 2 tbsp of butter. Saute the onion & peppers.
6
When the onion & peppers start to soften, add the thyme, rosemary, cayenne and fennel seeds.
7
Deglaze
the pan with the chicken stock, honey and bourbon.
8
Bring the liquid to a boil, cover the pot and reduce the heat to a simmer.
9
Simmer for about 20 minutes until the alligator is tender.
10
Stir in the heavy cream.
11
Serve in bowls, garnished with the fresh parsley.