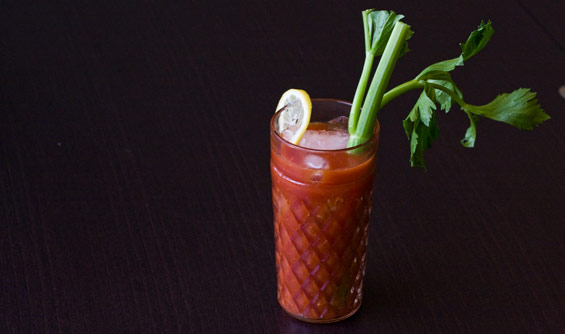 Ghost Chili & Fresh Wasabi Bloody Mary
Everyone likes their Bloody Marys a little different. This version combines the potent heat of ghost chili peppers with the nasal-clearing effect of fresh wasabi, the result is almost certain to shake you awake in the morning.
Wasabi Bloody Mary Ingredients: (makes 1 tall glass)
4 oz Ghost Chile Vodka
6 oz tomato juice
6 dashes Worcestershire sauce
2 dashes ghost chili hot sauce
1+ tbsp fresh wasabi rhizome
Freshly ground Tellicherry pepper to taste
Celery spear or pickled white asparagus for garnish.
Directions:
1. Grate the fresh wasabi (how to grate wasabi). Cover the wasabi paste and let it sit for 10 minutes.
2. Combine the vodka, tomato juice, Worcestershire sauce, 1 tbsp of wasabi paste and hot sauce in a blender. Blend.
3. Add Tellicherry pepper and additional wasabi to taste.
4. Pour in a glass with ice, garnish with the celery or asparagus. Serve.

Other Bloody Mary Recipes:
Fresh Horseradish Bloody Mary Recipe
Szechuan Button Bloody Mary Recipe
___________
Browse More:
Cocktail & Beverage Recipes
Fresh Wasabi Recipes
Ghost Chili Recipes
Dried Chile Recipes & Techniques
Root & Rhizome Recipes