Fig & Walnut Fregola, Risotto-style
R isotto doesn't have to be made with rice.  You can actually make it (using the same basic risotto technique) with fregola sarda.  Fregola sarda is essentially Italian couscous, made with durum semolina & toasted for a mottled brown look and delightfully nutty aroma.  The resulting dish has all the same swoon-inducing flavor and smoothness of risotto made with rice, but with a different look and slightly different texture. Here we've added walnuts to amp up the fregola's natural nuttiness and figs for some sweetness & complexity.  You could just as easily leave the figs & walnuts out or use your favorite risotto flavoring ingredients instead (wild mushrooms, fresh herbs, fresh truffles, truffle oil, etc).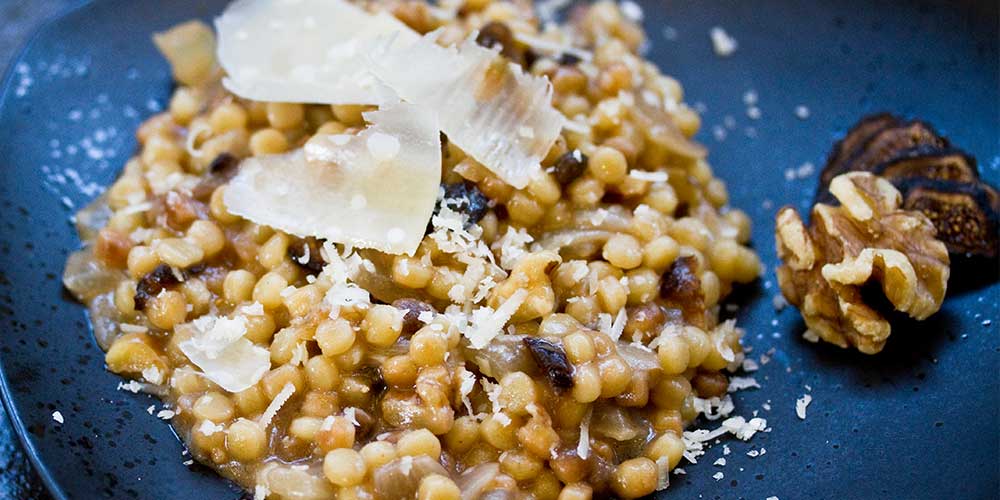 INGREDIENTS
1 cup Medium Fregola Sarda

1/2 cup Onion, finely chopped

1/4 cup White Wine

1-1 1/2 quarts Chicken Stock (amount will vary, so have extra on hand, just in case)
1/4 cup Parmigiano Reggiano Cheese, finely grated

2 Dried Mission Figs, minced

1/4 cup Walnuts, minced

Unsalted Butter

Salt & Pepper to Taste
DIRECTIONS
1
Melt some butter in a pot or deep saucepan & sweat the onions until they're tender & translucent.
2
Deglaze the pan with the white wine.
3
Add the fregola sarda and a half cup of the chicken stock.

4
Bring the stock to a simmer, and cook, stirring frequently, until most of it has been absorbed into the fregola.
5
Continue adding stock, simmering, and stirring until the fregola is starting to reach al dente. Stir in the walnuts and figs, and continue to cook the rest of the way.

6
Once the fregola has reached your desired texture, stir in the cheese and a tbsp of butter. Taste and add salt & pepper as needed. Serve.