Spruce, Douglas Fir & Matsutake Mushroom Farrotto Recipe
Farro risotto ("farrotto") replaces traditional risotto rice varieties with nuttier, chewier emmer, an ancient grain precursor to wheat. It won't be as naturally creamy as traditional risotto…which is why we've included cream to compensate. This farrotto recipe pairs that nuttiness with piney flavors from wild matsutake mushrooms, spruce tips and fir tips.
Douglas fir tips are just the tips from douglas fir branches. To use them, wash them thoroughly, pull off and finely mince the needles, then use those needles in your dish.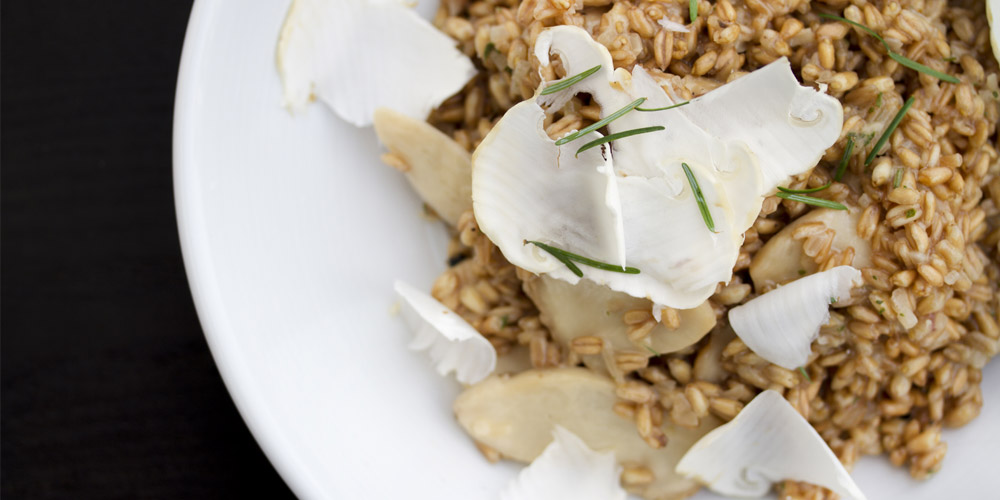 INGREDIENTS
2 cups Italian Farro

1 cup Sliced Fresh Matsutake Mushrooms

Additional very thinly sliced Matsutake for garnish

1 tsp Spruce Tip Salt

1 tbsp finely chopped needles from Douglas Fir Tips, plus additional needles for garnish

Approx. 3 cups Vegetable Stock

1 tbsp Unsalted Butter

½ cup minced Shallot

½ cup White Wine (sauvignon blanc)

¼ cup Heavy Cream

1 clove Garlic, minced (optional)

2 tsp Salt

½ tsp cracked Black Pepper

1 cup finely grated Parmigiano Reggiano cheese
DIRECTIONS
1
Melt the unsalted butter in a frying pan, then add the shallot.
Sweat
the shallots (and garlic, if desired) briefly over medium heat.
2
Stir in the matsutakes, salt and pepper.
3
When the mushroom slices are starting to get tender, stir in the farro.
4
When the farro has lightly toasted, pour in the white wine and cook, stirring, until the wine has evaporated.
5
Add the vegetable stock into the pan in increments, stirring frequently & continuing to cook (using the
risotto method
), until the farro is tender. The farrotto will not get as creamy as conventional risotto.
6
When the farro is tender, but not mushy, stir in the heavy cream, cheese, minced fir needles and spruce tip salt.
7
Serve garnished with additional douglas fir needles and very thinly shaved matsutake.