Makes 4 small Servings
WINE PAIRING
Red Burgundy or Chilean Syrah
The pomegranate glaze gives the slight game flavor of the quail breasts a complex, tangy, almost honeyed sweetness without being cloying. The farro grain side dish is hearty, nutty and savory with strong thyme and dill flavors that accentuate the quail's game flavor.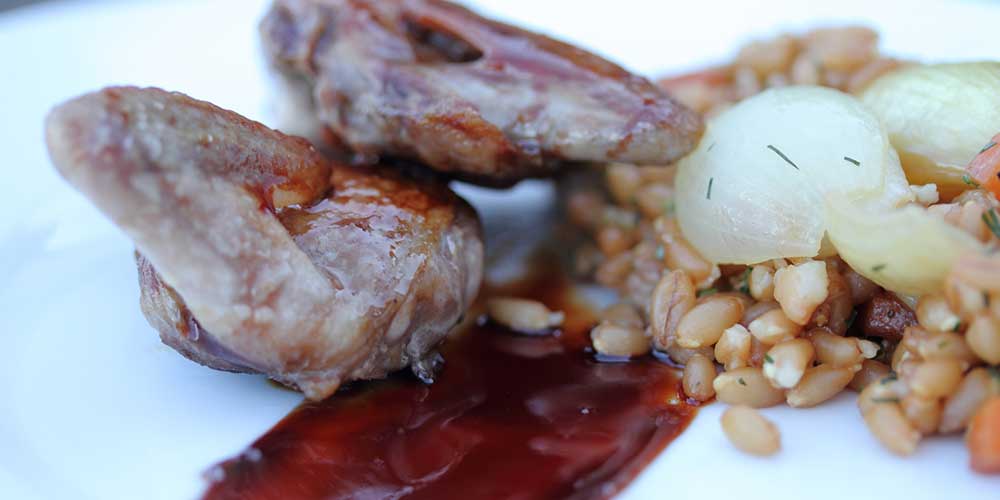 DIRECTIONS
1
Cook the farro & keep it warm on the stove top.
2
Preheat your oven to 375 degrees.
3
Simmer
the pearl onions in the chicken stock until mostly tender, and then add the carrots. Add more chicken stock as necessary to keep the pan from becoming dry. Season with salt & pepper and continue simmering until both the carrots and the onions are tender.
Note: If your onions are particularly large or you're in a hurry, cut them in half first.
4
Split the quail airline breasts into individual breasts (in half). Trim off any excess skin.
6
Salt the quail and lay it skin-side down into a hot pan with olive oil.
7
When the skin side of the quail has cooked, flip the breasts and brush them with the pomegranate glaze. Move the pan to the oven and roast until the breasts are cooked.
8
Brush each plate with a few streaks of the glaze. Put a pile of the farro to the side of the streak. Add a quail breast & serve.