Escarole, Toasted Hazelnut & Pickled Mustard Seed Salad
This hearty salad pairs escarole with toasted hazelnuts, a sour cream vinaigrette and pickled mustard seeds.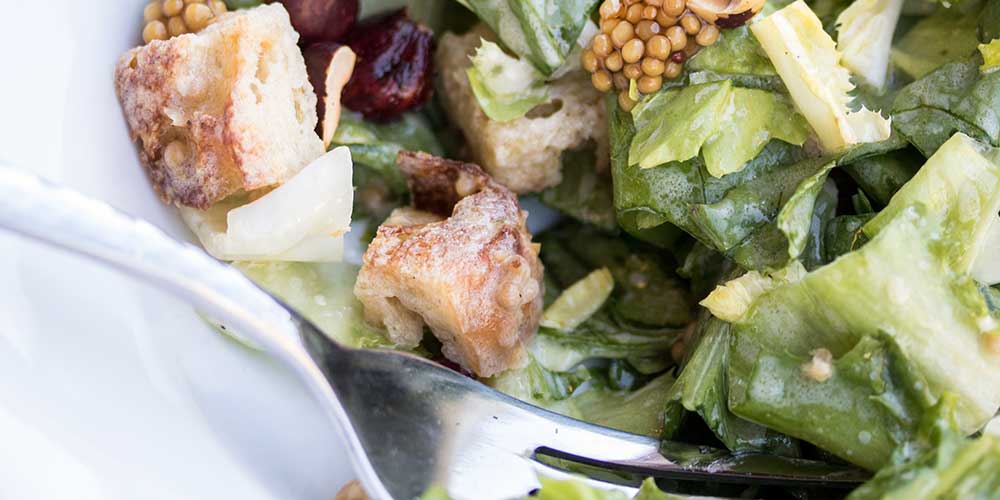 INGREDIENTS
2 heads of Escarole, cut into bite sized pieces

1 cup Hazelnuts, toasted & cut in half

2 cups of Croutons (we recommend you toast your own with salt, pepper & olive oil)


Lots of freshly ground Black Pepper
Amber Sour Cream Vinaigrette:

1 tsp Dijon Mustard

2/3 cup Extra Virgin Olive Oil

1/3 cup Amber Vinegar

1/2 cup Sour Cream

1 tsp Honey

Salt & Black Pepper to taste

DIRECTIONS
1
Make the vinaigrette using the listed ingredients, except the sour cream and honey (how to make a vinaigrette).
2
Whisk in the honey and the sour cream.
3
Toss the escarole with the hazelnuts and croutons. Drizzle in half the dressing, grind in the pepper, add the mustard seeds and toss again.
4
Add additional dressing to taste & toss again.