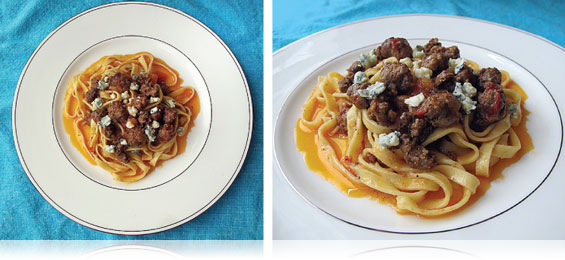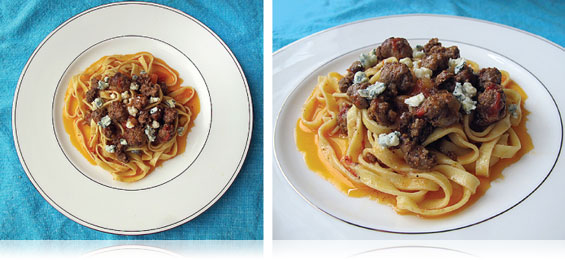 Fettuccine with Ragù of Elk Sausage (with Port and Pear) and Blue Cheese
Making ragù with sausage is a great time-saving alternative to using non-ground meat because sausage takes a lot less time to become tender. This ragù prepared with elk sausage is wonderfully flavorful and a terrific accompaniment to fresh homemade fettuccine (you could also substitute store-bought fresh fettuccine). A sprinkling of blue cheese is an excellent finishing touch, complimenting the sweet flavors of the port and pear.
Ingredients:
Fettuccine
1 1/4 cup "00" Flour
2 Eggs
1 teaspoon Salt
1 tablespoon Olive Oil
Ragù
2 tablespoons Olive Oil
4 Elk Sausages with Pork & Pear, casings removed, sliced in small chunks
1 Small Onion, chopped
1 Medium Carrot, chopped
1 Garlic Clove, finely chopped
1 teaspoon Juniper Berries, finely ground (How to Grind Spices)
1/2 teaspoon Ground Cardamom
1 cup White Wine
1/2 cup Chicken Stock
1 cup fresh Heirloom Tomatoes, crushed by hand
Danish blue cheese, crumbled
Directions:
Fettuccine
1. Whisk the eggs, salt, and olive oil together in a bowl.
2. Place flour in the electric mixer bowl with a dough hook. Pour the egg mixture slowly into the flour as it mixes until the dough forms a ball. Dust the dough ball with a little bit of additional flour if necessary.
3. Using a pasta maker, roll out the dough and cut into fettuccine ribbons.
4. Boil in salted water about 1 or 2 minutes. Drain.
Ragù
1. In a large stew pan, heat oil and add sausage to the pan. Fry for 2-3 minutes, stirring. Remove from the pan.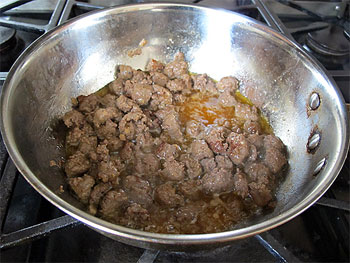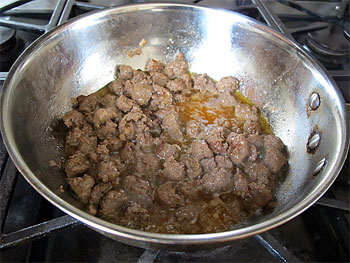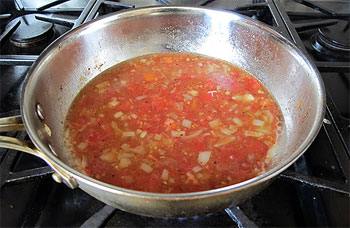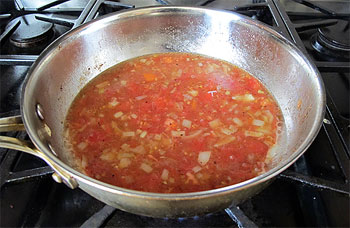 2. Adding more oil if necessary, place onions, carrots, garlic, juniper berries and cardamom in the pan. Sauté until the vegetables are beginning to soften.
3. Return the sausage to the pan, pour in the wine, stock and crushed tomatoes. Bring to boil, then lower the heat, cover, and simmer for about an hour.
4. Add the cooked fettuccine, and cook for another minute, stirring gently.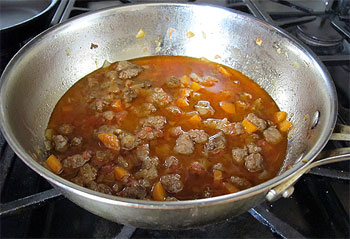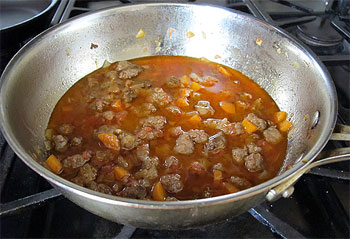 To Serve:
1. Divide fettuccine and ragù between plates, sprinkle each portion generously with blue cheese.
Recipe Development & Photography by Natasha Price, 5 Star Foodie
___________
Browse More:
Sausage Recipes
Pasta & Sauce Recipes