Sous-vide Canadian Elk Strip Loin, Rainbow Carrots, Carrot Cream & Allspice Gastrique
Makes 4-6 Servings
WINE PAIRING
Saumur Rouge
The carrot cream's secret ingredient: cashew cream, gives it added sweetness and nuttiness that pairs beautifully with the sweet, earthiness of the carrots. An exciting honey-allspice gastrique cuts the richness of the cream and gaminess of the elk.
Sous vide is an excellent way to cook game meat because it can help keep very lean meat moist and cooked the way you want it. That's why we cooked this dish using a sous vide immersion circulator, but you could sear, then roast the elk instead.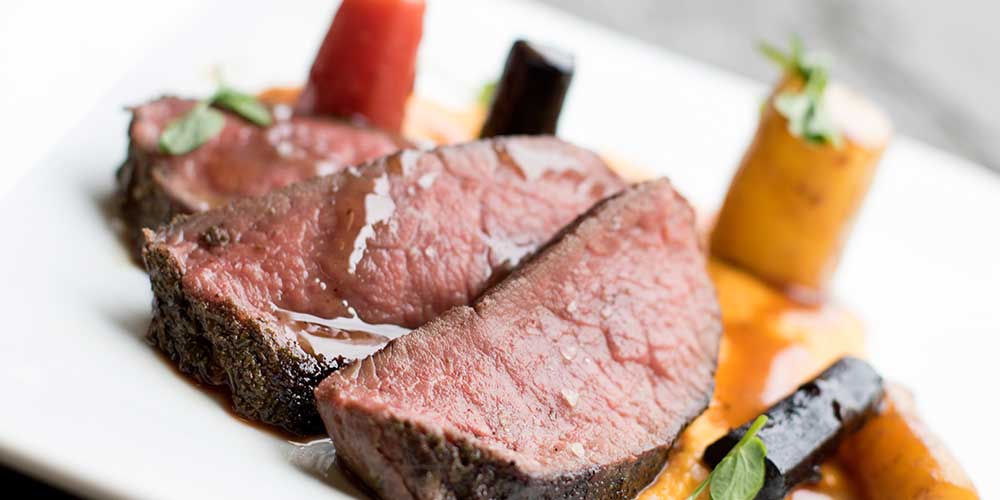 INGREDIENTS
1 scant tsp Whole Allspice
1 tbsp Fresh Rosemary Leaves
1 tsp Kosher Salt
1 tbsp Unsalted Butter
Carrot Cream:
1 bunch Carrots, peeled & chopped
2 tbsp Cashew Cream
Salt to Taste
Rainbow Carrots:
1 bunch Rainbow Carrots
1 tbsp Olive Oil
¼ cup Beef Stock
Salt
Allspice Gastrique:
½ cup Sugar
2 tbsp Water
½ cup Honey Vinegar
½ tsp Ground Allspice
Optional Garnish:
Pea Shoots
DIRECTIONS
1
Preheat your sous vide water bath to 130°F.
2
Grind together the allspice, rosemary, and tsp of salt.
3
Vacuum pack the elk striploin with the spice mixture and tablespoon of butter.
4
Cook the elk in the sous vide bath for 1 ½ hours.
5
While the elk is cooking, boil the chopped carrots in salted water. Combine them in a blender with the cashew cream and two tablespoons of their simmering water. Taste and add additional salt as necessary.
6
Preheat your oven to 350°F. Brown the rainbow carrots in their olive oil. Add the beef stock and move them to oven to braise until they're knife tender (about 10-15 minutes).
7
Make the Gastrique: In a saucepan combine the sugar and the water and cook until the mixture turns a light amber brown. Add the allspice and honey vinegar. The mixture will bubble up, but that's ok.
8
Once the elk has cooked, cut open the bag(s) and pour all the juices into the gastrique. Simmer it down to a syrup consistency.
9
Sear the elk on all sides in a hot oiled frying pan or skillet, just until the surface is browned.
10
Plate the carrot cream, topped with the roasted carrots and elk. Drizzle the plate with the gastrique. Garnish, if desired, with pea shoots.