This post doesn't cover all of the edible flowers we sell, but it does focus on several of the more palatable and/or popular varieties.
Unique Flowers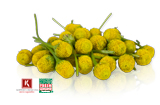 Szechuan Buttons (aka Buzz Buttons)
Szechuan buttons have a mild, somewhat grassy flavor…but that isn't what makes them exciting.  A few seconds after you chew on a few petals (or a whole bud) you'll find your mouth tingling with a feeling of electricity.  This effect makes them a fun party food, garnish, or addition to beverages.
How to Use Szechuan Buttons in Cocktails & Other Beverages
Szechuan Button Recipes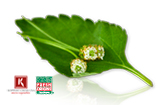 Dulce buttons are incredibly sweet – 500-1,500 times as sweet as sugar.  They have a slight mint, thyme, anise/licorice flavor.  Dulce leaves are a little less sweet with a more pronounced herb flavor.  They can be used as a cocktail ingredient or fun party food.
Particularly Tasty Flowers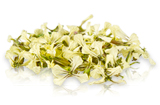 Peppery, sweet, bell-pepper-like fruitiness. Tender texture.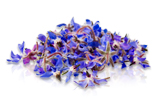 Cucumber-like flavor, not at all bitter. Tender texture.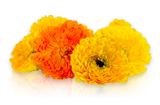 Minty, floral, slightly bitter/grassy. Crisp lettuce-like texture.  Petals can be used as an ingredient or edible garnish.  Whole calendulas can be dense in texture, so we generally recommend only using whole blossoms as a decoration,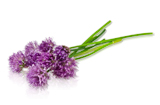 Oniony & spicy.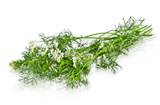 Cilantro Blossoms

Tiny blossoms atop tender cilantro sprigs with a cilantro flavor.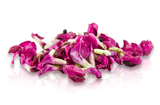 Fava Flowers

Like fava beans and/or snap peas. Crisp, juicy texture.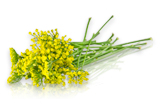 Fennel Blossoms

Strong, sweet fennel flavor. Bunches of flowers are tender. The attached stalks, while quite tasty, don't really break down when chewed. We recommend you remove them before using as an edible garnish. We haven't tried this yet, but the stalks might work well muddled, steeped or blended to flavor cocktails, etc.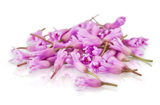 Garlicky & musky.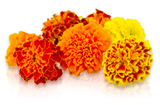 A little bitter, a little spicy.  Whole marigolds can be dense in texture, so we generally recommend using whole blossoms as a decoration, while petals can be used as an ingredient or edible garnish.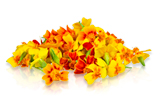 Micro Marigolds

Minty & citrus-y.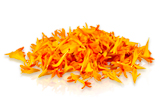 Spicer than full grown edible marigolds. A little grassy.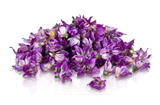 Micro Pepper Flower Purple™ & Micro Pepper Flower White™
Herby & bell pepper-esque.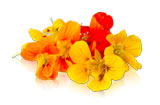 Mild, watercress-esque, peppery flavor.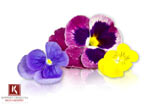 Wintergreen mint, slightly nutty on the finish.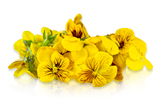 Minty & grassy – somewhat similar to pansies.
Mild Flowers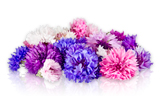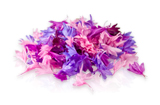 Bachelor's Buttons & Micro Bachelor's Buttons™
Bachelor's buttons have a very mild, slightly grassy flavor.  We wouldn't use them specifically for their flavor, but they're beautiful and not unpleasant if people eat them.  Whole (not micro) bachelor's buttons have a tough stem & green bulb below their petals that are quite tough, and should be cut off before using them as an edible garnish or ingredient.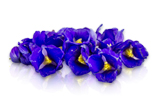 Micro Blue Sapphire™
Micro Blue Sapphire™ flowers have a very mild, cucumber-esque flavor and a crisp texture.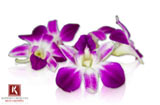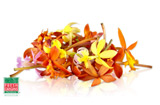 Karma Orchids & Micro Orchids™
Orchids have a mild, slightly bitter, sometimes cucumber-esque flavor.  Like bachelor buttons, this flavor isn't very exciting, but it makes them extremely adaptable and easy to use for their gorgeous looks.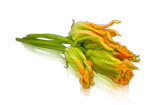 Squash blossoms (aka zucchini blossoms) have a mild flavor and a crisp, juicy texture.  They're most often used as a garnish or stuffed with flavorful ingredients (cheese, pesto, mousse, risotto, etc) and then pan or deep fried.  Squash blossom recipes.
How to Stuff Squash Blossoms
Squash Blossom Recipes
Flowers That Should Be Processed Before Eating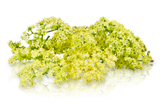 Elderflowers
Elderflowers are beautiful and are fried or used to produce elderflower syrups & beverages in Europe.  When raw, individual tiny blossoms are probably mild enough to be eaten as a garnish, but bunches can be bitter.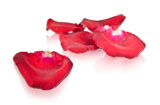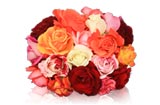 Edible Rose Petals & Whole Edible Roses
You may not want to eat a whole rose or a rose petal – they can be tough and unpleasantly "soapy" depending on the variety.  That said, you can still make recipes flavored & colored with edible roses…you just need to process them first.
One of our favorite ways to do this is into making them into rose paste (how to make flower pastes) – which can then be used in sorbets, butters and simple syrups (try them in cocktails!).
Flowers Just For Looks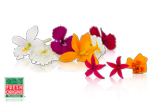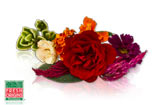 Micro Flowers Blend™& Flower Assortment
The contents of these blends vary with the season, but can be bitter.  They're probably better used as an inedible garnish.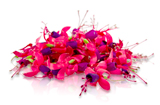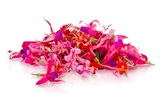 Fuchsias & Micro Fuchsias™
Fuchsias have a flavor that starts out sweet, but then turns bitter, peppery, sour & grassy.  They're stunning to look at, food safe and technically edible, but we recommend them as a decoration.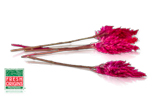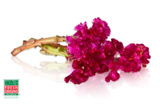 Visually striking and perfect for inedible garnishes, these varieties would best be described as "food safe" rather than actually edible.
They tend to be particularly woody and/or bitter such that, while they're technically safe to eat (and certainly safe to touch food) you wouldn't really want to consume them.
_________
Browse More:
Edible Flower Recipes, Tips & Techniques