Dungeness Crab Cakes with Avocado-Banana Mousse
Makes 6 Servings
WINE PAIRING
Sauvignon Blanc or crisp Chablis
Filler-free crab cakes served with a peppered red grapefruit garnish that helps keep them light on the palate. Here we've plated them atop an avocado-banana mousse which is rich & creamy without blanketing out the flavor of the crab.
Variation: If you want to skip the mousse & grapefruit, these same crab cakes make a very tasty breakfast served with a poached egg…especially with a glass of white sparkling wine.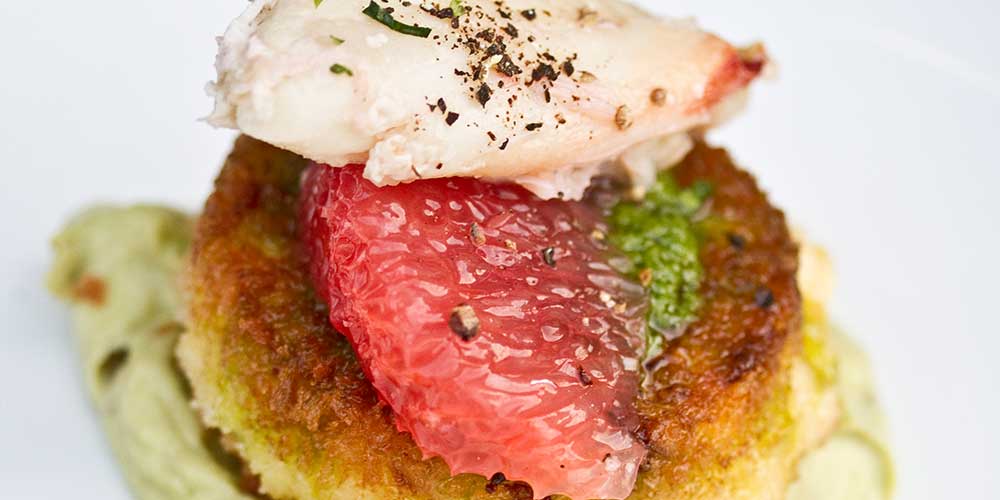 INGREDIENTS
1 Leek

1 Bay Leaf

Zest of 1 Lemon, very finely grated

2 cups Heavy Whipping Cream

1 tsp Fresh Chives, sliced

3 Eggs, beaten

All Purpose Flour

Panko Bread Crumbs

Salt & Pepper

Ruby Red Grapefruit, cut into supremes (how to cut citrus supremes)

Oil for pan-frying
Banana Avocado Mousse:

3 Avocados, halved, skin & pits removed

3 tbsp Extra Virgin Olive Oil

1/2 tsp Lemon Juice

1 Banana
Optional Garnishes:

Additional cooked crab leg meat
DIRECTIONS
1
Trim the root end and greens away from the leek. Slice the remainder down the center, fanning out the layers. Rinse out the leek to remove any sand embedded between the layers. Cut into a small pieces (small dice).
2
Put the chopped leek into a small pot with one bay leaf, the lemon zest, and the heavy cream. Bring to a simmer and cook until the cream has reduced in volume by half.
3
Pour the leek mixture into a bowl, let it cool, then move it to the refrigerator to chill.
4
Make the Avocado-Banana Mousse – Blend the avocados together with the olive oil. Blend until smooth, stopping occasionally to scrape down the sides and stir. Blend in the lemon juice & banana. Move to a bowl, cover with plastic wrap & refrigerate until needed.
5
Mix together the crab, 1 cup of the leek mixture & the fresh chives. Portion them out into balls, each roughly 1/4 cup.
6
Set up a 3-stage breading station with seasoned flour (with 1 pinch salt and a few grinds black pepper), beaten egg, and panko bread crumbs.
7
Coat each crab cake with the flour, then the egg, then the panko.
8
Press the balls into uniform cakes by putting them in a ring mold one at a time and pressing down so they flatten & expand to fill the space.
9
Move the crab cakes to your refrigerator to set (they can stay there overnight if desired) or freeze.
10
Heat oil in a large frying pan until a drop of water dropped into it dances.
Fry
the crab cakes on each side (if your cakes are too thick and have browned before they have heated through completely, you can finish them on racks in a 400 degree oven).
11
Spread a layer of the mousse on a plate. Crack some black pepper over the grapefruit supremes.
12
Put a crab cake on top of the mousse, top with a few peppered red grapefruit supremes and (if desired) a piece of cooked crab leg meat.
13
Drizzle the plate with a little bit of the chive oil if desired. Serve.