WINE PAIRING
Spatlese Riesling from Rheingau or Gewürztraminer from Alsace
Duck breasts make delicious sandwiches, especially when paired with a quick and easy coriander mayo and roasted fennel bulb.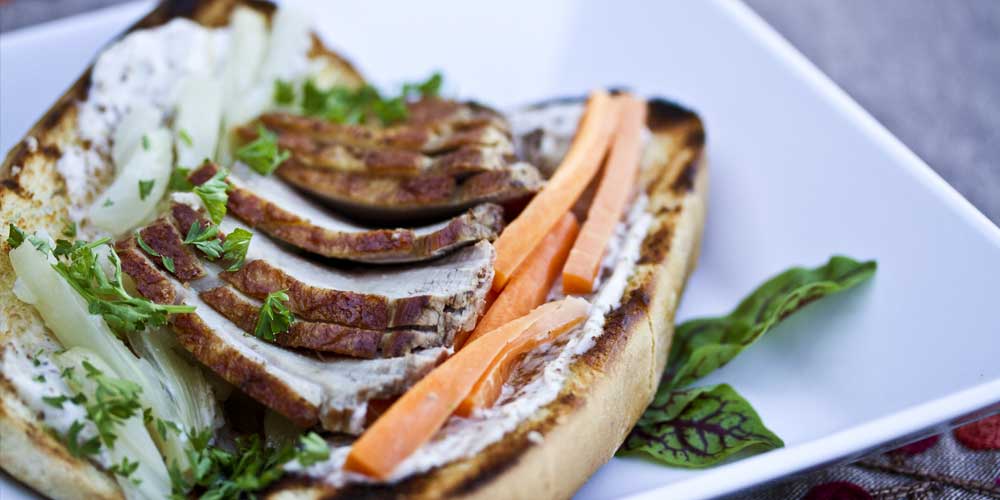 INGREDIENTS
½ Duck Breast per serving

1 tbsp Coriander Seeds

½ cup Mayonnaise (homemade mayonnaise or your favorite brand)

1/8th of a Fennel Bulb per serving

Lemon Juice to taste

Parsley

Demi-Baguettes, Brioche Rolls or Hoagie Rolls
DIRECTIONS
1
Preheat your oven to 375 degrees.
2
Cut the fennel bulb in half and pull apart into sections. Lightly coat them with salt, pepper, and oil. Put them into a baking dish and roast in the oven until tender.
4
Make the coriander mayo: Lightly toast the coriander seeds in a dry pan, just until they become aromatic. Be sure to keep the pan moving and not to leave them unattended…they burn easily.
6
Stir the ground coriander into the mayo, add lemon juice to taste, and reserve.
7
Get some canola oil in a cast iron skillet very hot, and add the rendered duck breast. Sear the breast on both sides to develop a nice crust.
8
Brush the buns with the reserved duck fat. Grill or toast them.
9
Spread coriander mayonnaise on the bun, slice and add the duck breast. Top the duck breast with the pickled carrots, roasted fennel bulb, and parsley to taste. Serve.