This fresh tasting, herby & slightly hot sauce is delicious on steaks, many other cuts of meat, and seafood. If you want, you can supplement or replace the lime juice with white wine vinegar for a different flavor. The jalepenos can also be replaced with dried chilies that have been reconstituted.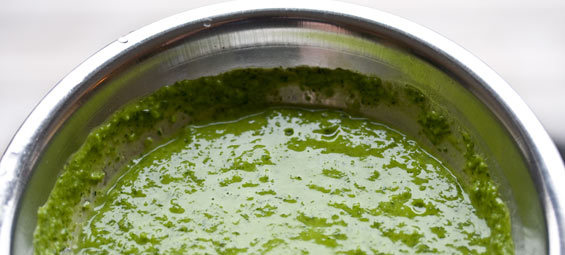 DIRECTIONS
1
Wash all the herbs and shake off the excess water, but don't worry about getting them perfectly dry.
2
Remove the thyme and oregano leaves from their stalks and discard the stalks. You do not have to do this to the other herbs as long as their stalks are tender rather than woody.
3
Throw all the herbs in a food processor (you may have to pulse some of the bunches down before adding more).
4
Remove the seeds and inner ribs from the jalapeno. Rough chop it.
5
Add the jalapeno and lime to the herb mixture, run the food processor while slowly drizzling in the olive oil.
6
Though the chimichurri can be used immediately, it will get better if you let it rest in the fridge for a few hours before serving.