Recipe by Natasha at 5 Star Foodie Culinary Adventures.
Thai chilies, also called Bird chilies, are very hot, only third down on the Scoville scale below Ghost Chile Peppers and Habaneros. Thai chilies are commonly used in many Asian specialties, such as curries.
In today's recipe, these chilies are ground into a powder, which then gets incorporated into a coconut batter for the pan-fried shrimp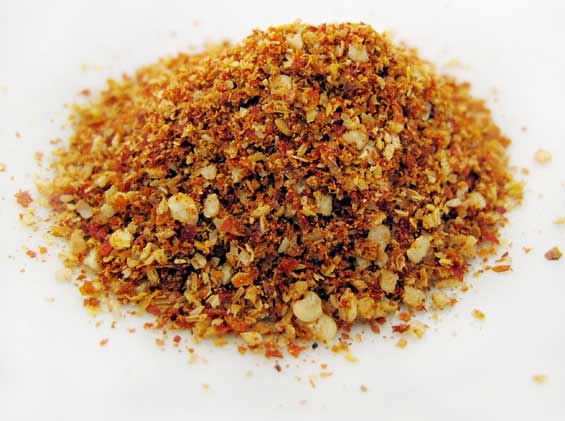 The resulting shrimp is perfectly crispy, with a wonderful blend of toasty flavors of the coconut and a spicy kick from the Thai chilies. This Chile-Coconut Crusted Shrimp is a terrific appetizers or can be served with a bowl of rice and stir-fried vegetables as a main course.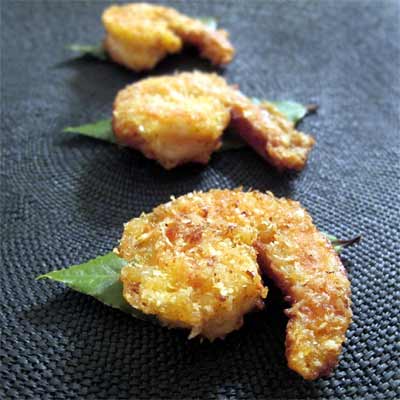 Ingredients:
24 large shrimp or prawns
About 1/4 cup dried Thai chilies
1 cup unsweetened finely shredded coconut
1/2 cup all-purpose flour
Salt to taste
1 egg
2-3 tablespoons Vegetable oil
Directions:
Peel the shrimp, leaving the tails on. Rinse and pat dry.
Place Thai chilies in a spice grinder and grind into a fine powder. In a shallow bowl, mix shredded coconut, flour, salt, and 2 tablespoons of Thai chili powder.
Heat vegetable oil in a large skillet. Whisk the egg in a bowl with a little bit of water. Dip each shrimp in the egg mixture and coat it lightly with the chile-coconut mixture. Fry for about two minutes on one side and another minute on the other side, or until golden brown and crispy.
___________
Browse More:
Shrimp & Prawn Recipes
Dried Chile Recipes & Techniques