Makes 4-6 Servings
WINE PAIRING
Meursault
This simple squash soup is different because it's extra savory. The secret? Fish sauce! The finished soup doesn't taste fishy, but is packed with addictive umami.
If you'd prefer (or butternut squash is out of season) you could substitute the same amount of orange sweet potatoes for the cubed butternut squash.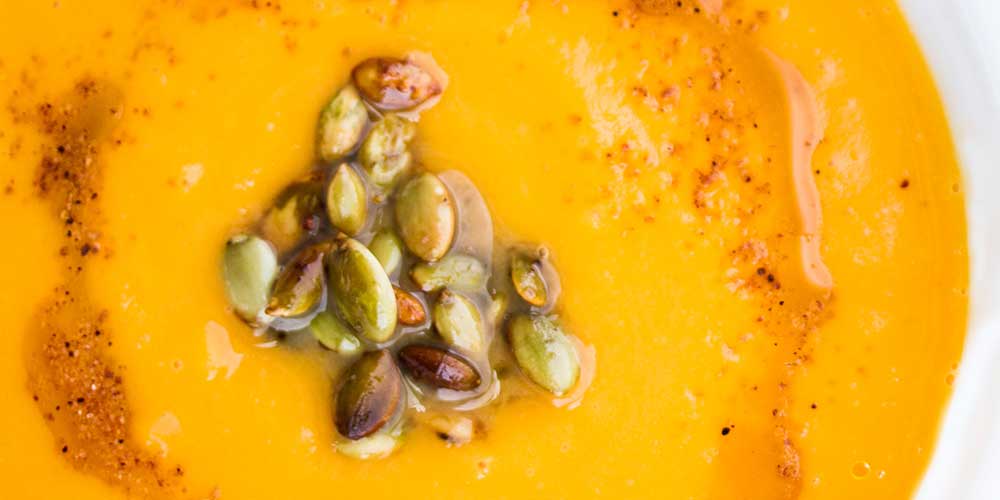 INGREDIENTS
6 cups 1" cubed Butternut Squash

1 Onion, small diced

1 quart Chicken Broth

1 Bay Leaf

1 tsp Maple Vinegar (could substitute white wine vinegar & maple syrup to taste)

1 tbsp Red Boat Fish Sauce

Butternut Squash Seed Oil

Sweet Salt

Cooking Oil

Salt
DIRECTIONS
1
Boil the cubed squash in salted water until soft.
2
Put the onion in a separate soup pot with a little oil. Saute until translucent.
3
Once the onion is tender, add the cooked butternut squash, bay leaf, and chicken broth.
4
Bring the liquid to a boil, reduce to a simmer and simmer for ten minutes.
5
Remove the bay leaf. Puree the soup using a stick blender (immersion blender) or conventional blender until smooth.
6
Stir in the maple vinegar and fish sauce. Taste and add salt if needed (the fish sauce is quite salty).
7
Spoon the soup into bowls. Top each bowl with a few of the toasted pumpkin seeds.
8
Finish each bowl with a drizzle of butternut squash seed oil and a sprinkle of sweet salt. Serve.