Buffalo Quail Legs with Za'atar Ranch Dressing
Here's an upscale fine dining take on a sports bar classic.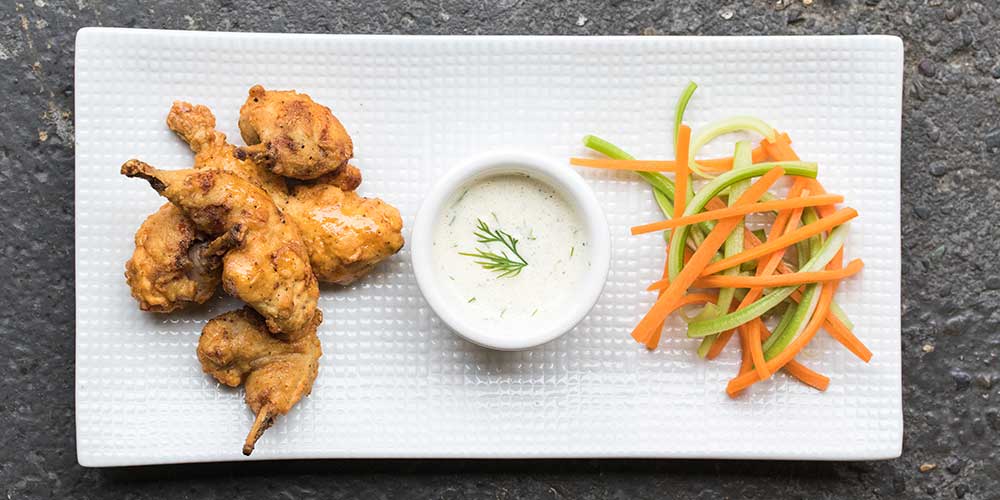 INGREDIENTS
Fried Quail Legs:
1 cup All Purpose Flour
½ cup Buttermilk
High Heat Oil for Deep Frying
Buffalo Sauce:
¼ cup Hot Sauce (we used Bonache Habanero Sauce)
¼ cup melted Unsalted Butter
2 tbsp Honey (we used Shipwreck Wildflower Honey)
2 Carrots, peeled & cut into sticks
2 Celery Stalks, cut into sections
DIRECTIONS
1
2 hours prior to cooking, soak all of the quail in buttermilk.
2
Pre-heat deep fryer or a deep pot on the stove with plenty of oil to 350°F.
3
In a pot on the stove combine the melted butter with the honey and hot sauce. Keep it warm while you fry the quail legs.
4
Remove the quail from buttermilk and allow some of the excess buttermilk to drip off. Dunk the quail pieces into flour.  Shake off the excess.  Dip the quail back into the buttermilk and again into the flour. Shake off the excess and get ready to fry.
5
Gently lower the breaded quail legs into the hot oil. Work in batches so you don't overcrowd the oil and drop its temperature too far (if it's too cool, you'll get oily results).
6
Fry the quail pieces until they're crispy and golden brown. Remove them from the oil to paper towels to drain off the excess oil while you fry the remaining pieces.
7
Toss the quail legs in the buffalo sauce.
8
Serve the quail with dipping containers of the za'atar ranch, the carrot sticks & the celery.