Halibut Cheeks with Beet Buerre Rouge
Makes 5 Servings
WINE PAIRING
Chenin Blanc
This dish pairs fluffy seared halibut cheeks with crispy-yet-creamy potato cakes, a sour, sweet, buttery beurre rouge sauce, and a roasted beet salad.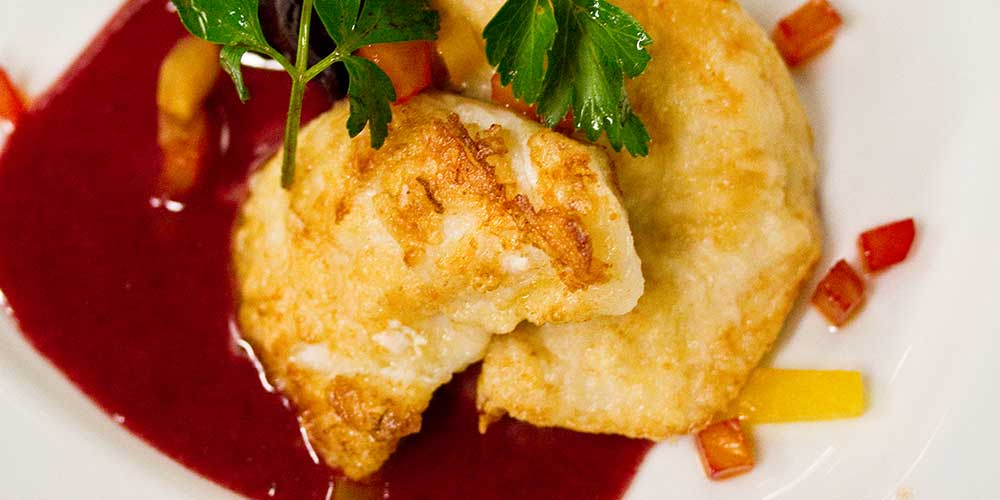 INGREDIENTS
Beet Salad & Beet Puree for Sauce:

6 medium Golden/Yellow Beets

5 small Red Beets

2 Bay Leaves

4-6 sprigs of Fresh Thyme
1/2 bunch Fresh Parsley Leaves

Salt, Pepper & Red Wine Vinegar to Taste

1 tbsp Fresh Chive Oil

Olive Oil to coat
Beet Beurre Rouge:

2 Shallots, sliced

2 sprigs of Fresh Thyme

2 sprigs of Fresh Parsley

1 Bay Leaf

1/2 tsp whole Black Peppercorns

1/2 cup Red Wine (we recommend Cabernet Sauvignon)

1/2 cup Red Wine Vinegar

1 tbsp Heavy Cream

3/4lb of chilled Unsalted Butter, cubed
DIRECTIONS
1
Preheat your oven to 350 degrees.
2
Trim the tops and bottoms from the beets. Rub them with oil and place them in separate baking dishes. Add to each baking dish 1 bay leaf, 2-3 sprigs of fresh thyme, salt and pepper.
Roast
them in the oven until tender (45 mins to an hour, depending on size).
3
Combine the shallots, thyme, parsley, bay leaf, peppercorns, red wine, and red wine vinegar in a pot or saucepan and reduce down to 1 tbsp of liquid.
4
Add the cream to the reduced vinegar-wine mixture. Puree two of the red beets with a little water and add two tbsp of the resulting puree to the pot. Gently simmer to reduce.
5
Whisk in the chilled butter into the mixture a few cubes at a time. Continue adding butter, whisking constantly, until the sauce is viscous & creamy.
See how to make a beurre blanc for more technique tips.
6
Strain the sauce through a fine mesh strainer.
7
Dress the remaining two red beets with the chive oil and a few drops of red wine vinegar. Finely cube the golden beets and add 3 tablespoons of them to the red beet along with the picked parsley leaves.
8
Heat a millimeter of oil in a large frying pan over medium-high heat. Dust the halibut cheeks with flour and gently lay them into the pan. Flip after a crunchy-brown crust has formed on the bottom.
Once you have a crust on both sides, remove them from the pan.
9
Put a potato cake on each plate. Sauce the plate with some of the beet beurre rouge. Put two halibut cheeks on each plate along with the beet salad. Serve.
Browse More:
Halibut Cheek Recipes