Broccoli & Shitake Stir-Fry
A simple vegetarian stir-fry that blends savory and sweet. Delicious over rice!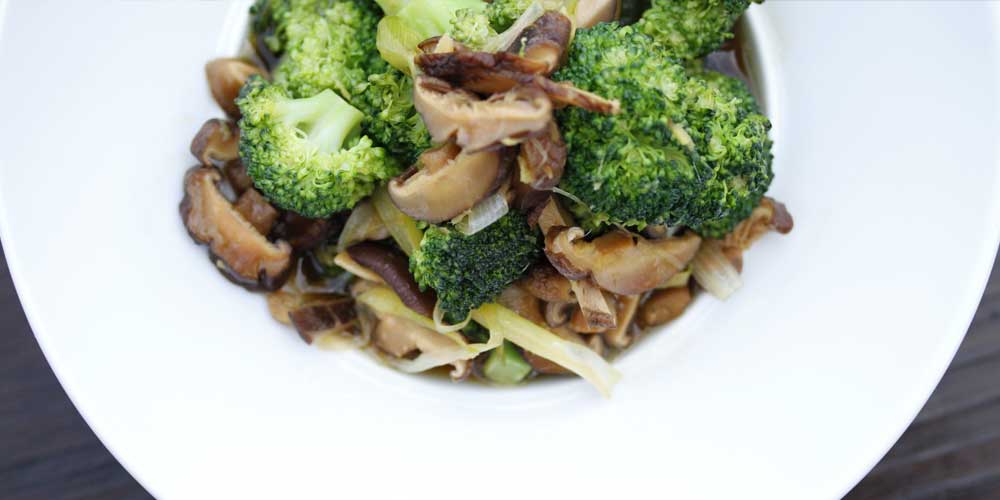 INGREDIENTS
1 medium Broccoli Head, cut into florets

2 tbsp Vegetable Oil

4 slices of Ginger, thinly shredded

1 clove Garlic, thinly sliced

2 oz Dried Shitake Mushrooms, reconstituted & soaking water reserved

4 Scallions, cut in thin strips

1 tbsp Rice Wine Vinegar

2 tsp Soy Sauce

1 tsp Salt

1 tsp Sugar

2 tsp Sesame Oil
DIRECTIONS
1
Bring a large pot of water to the boil. Place the broccoli florets in the water and let it return to a full boil.
2
Cook the vegetables for 1 minute, then drain into a colander, running cool water over the top to cool them down to around room temperature.
3
Heat oil in a large skillet or wok, then add the ginger, garlic, scallions, mushrooms, vinegar and soy sauce. Stir fry quickly for 2 minutes.
4
Stir in the broccoli, then season with salt, sugar, sesame oil and 1 tbsp of the mushroom soaking water.
5
Cook for another 2 minutes and serve over rice.