Braised Kurobuta Pork Cheeks w/ Apple & Mustard
Makes 4-6 Servings
WINE PAIRING
Viognier
Pork cheeks are packed with flavor and become luxuriously tender when slow braised. As they cook, their connective tissue dissolves into the braising liquid, giving it extra body and flavor.
Here we've paired them with classic pork-friendly flavors – apple & mustard. The apple butter can be made ahead of time & kept in your refrigerator if you want to simplify cooking on the day you want to serve this dish. You'll have some butter left over, but it's tasty stuff – try it on your toast in the morning!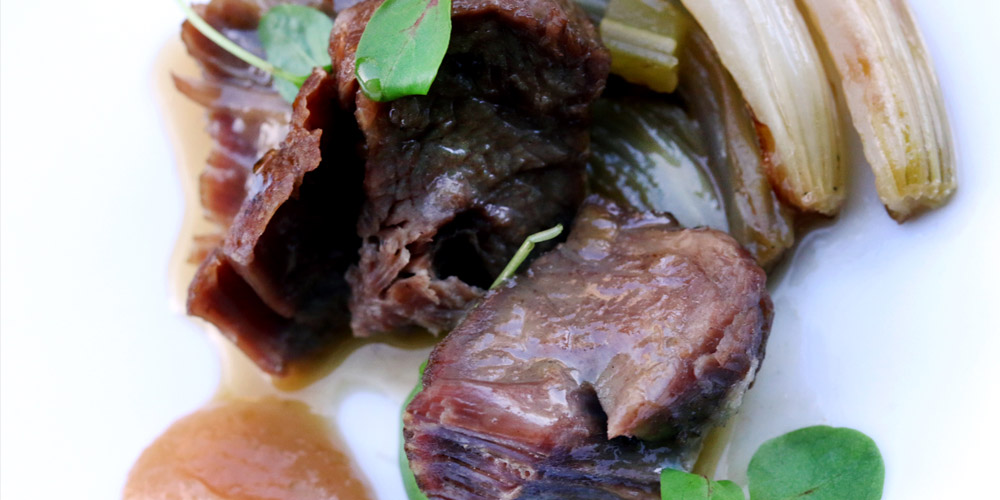 INGREDIENTS
2 tbsp High Heat Oil

¼ Large Onion, finely diced

1 Medium Carrot, finely diced

2 Celery Ribs, finely diced

¼ tsp Salt

2 Bay Leaves

1 cup Dry Hard Apple Cider
Apple Butter

2 Granny Smith Apples, cored & cubed

2 Honeycrisp Apples, cored & cubed

2 cups No Sugar Added, Nonalcoholic Apple Cider

½ tsp Salt

½ Ground Cinnamon
Roasted Fennel Bulb

1 Large Fennel Bulb, cleaned & sliced into thick wedges

1 tbsp Olive Oil

1/2 tsp Kosher Salt
2 tbsp Unsalted Butter

1 tsp Apple Cider Vinegar
DIRECTIONS
1
Preheat your oven to 300°F.
2
Sear the pork cheeks on both sides in a very hot pan oiled with the tablespoon of oil, until they develop a brown crust. Remove them from the pan and reserve.
3
Add an additional tablespoon of oil & reduce the heat to medium low. Add the carrots, celery, onion, bay leaves and ¼ tsp of salt.
Sweat
the veggies until they soften, but do not take on color.
4
Pour in the hard cider & bring the liquid to a simmer.
5
Move the pot to the oven (uncovered) and braise until the cheeks are tender, about 2-3 hours.
6
Make the Apple Butter: While the cheeks are braising, put the cubed apples in a pot with the non-alcoholic cider, salt & cinnamon. Cook over high heat until the apples break down, then reduce the heat to low & continue to cook until the mixture loses half of its liquid volume, darkens, and gets sweeter.
7
When the cheeks are tender, remove the pot from the oven & increase the heat to 400°F.
8
Toss the fennel bulb pieces with the olive oil & salt, spread them out on a baking sheet, and roast them in the oven until tender.
9
Remove 1 cup of the pork cheeks' braising liquid, strain it, and pour it into a frying pan or skillet. Bring the liquid to a simmer & cook until it reduces by half. Swirl in the 2 tablespoons of butter along with the teaspoon of apple cider vinegar.
10
Remove the pork cheeks from the braising liquid. Slice them against the grain, and serve them with the apple butter, the braising liquid sauce, and the roasted fennel bulb. Decorate with hearts of fire microgreens if desired.