Braised Grass-Fed Beef Brisket
Because this brisket is braised in a white wine-based liquid without stock, its flavor is lighter than most braised-beef recipes. Here it's served with a warm salad of lemon infused roasted cauliflower.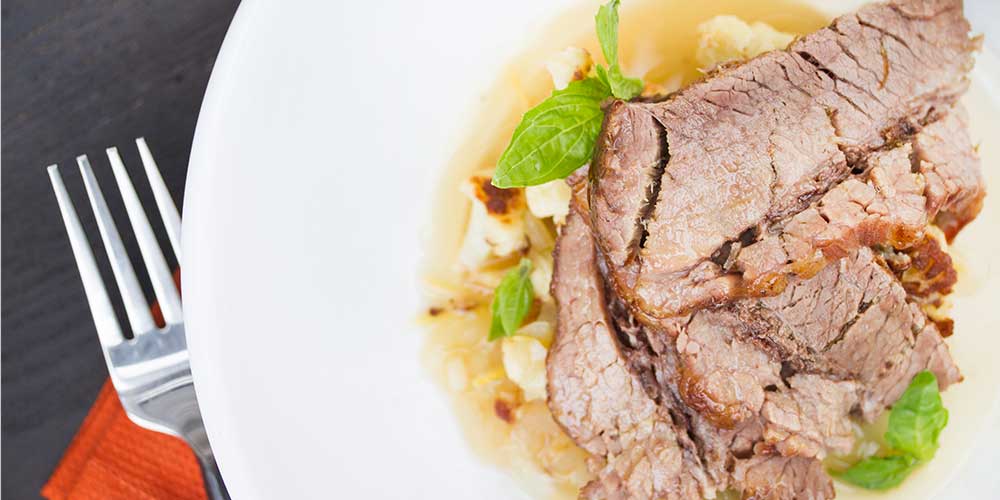 INGREDIENTS
4 Leaves of Basil, cut chiffonade

Braising Liquid:

1 cup White Wine

1 cup Water

1 piece Star Anise

½ large Carrot, cut into 1" rounds

½ Onion, skin on, cut into 1" wedges

1 Bay Leaf
Cauliflower:

1 Head of Cauliflower, cut into florets

½ Onion, finely diced

1/8 cup Seasoned Rice Wine Vinegar

1 recipe Speedy Preserved Lemon

Juice of 1 Lemon

¼ cup Extra Virgin Olive Oil/span>

Salt & Pepper
DIRECTIONS
1
Preheat your oven to 300 degrees.
2
Trim off some of the fat cap from the brisket. If necessary, cut into smaller portions that will fit your vessel & cooking time. The larger the pieces the better.
3
Season the brisket liberally with salt & pepper. Get an oiled frying pan quite hot and sear the brisket pieces on all sides to develop a brown crust.
4
Combine the braising liquid ingredients in a separate, oven safe pot. Add the brisket & bring the liquid up to a boil.
5
Cover the pot and move it to the oven to braise until a paring knife goes into the meat without resistance (approx. 4 hours).
6
Remove the pot from the oven & move the brisket from the liquid to a clean plate to rest, loosely covered with foil. Reserve the liquid.
7
Increase the oven temperature to 350 degrees.
8
Blanch the cauliflower in salted water, until it approaches tender (but isn't completely cooked). Drain off the water, then cover the cauliflower briefly with cold water to bring the temperature down.
9
Drain the cold water off the cauliflower, then put it in a hot, oiled, oven-safe frying pan. Cook it until the florets start to brown, then move it to the oven to roast until it's golden brown.
10
Remove the cauliflower from the oven, but keep it in the same pan. Put the pan back on the stovetop and add the minced onion.
Sweat
the onion until it becomes semi-translucent.
11
Add the lemongrass vinegar and cook until it evaporates from the pan.
12
Strain the reserved braising liquid. Rinse the salt & sugar off the preserved lemon zest. Add it to the cauliflower pan along with the braising liquid & the lemon juice.
13
Simmer briefly, then finish the cauliflower mixture with the extra virgin olive oil.
14
Thinly slice the brisket.
15
Serve the cauliflower mixture in bowls, topped with brisket slices. Sprinkle each bowl with the basil.