Makes 12 Servings
WINE PAIRING
Chardonnay
This dish is bacony, herby and comforting. It's mild enough to work as a side dish with almost anything, but hearty enough to work as a one-pot meal.
We've used three different bean varieties here for a more interesting blend of shapes and sizes, but you could use just one or two varieties instead.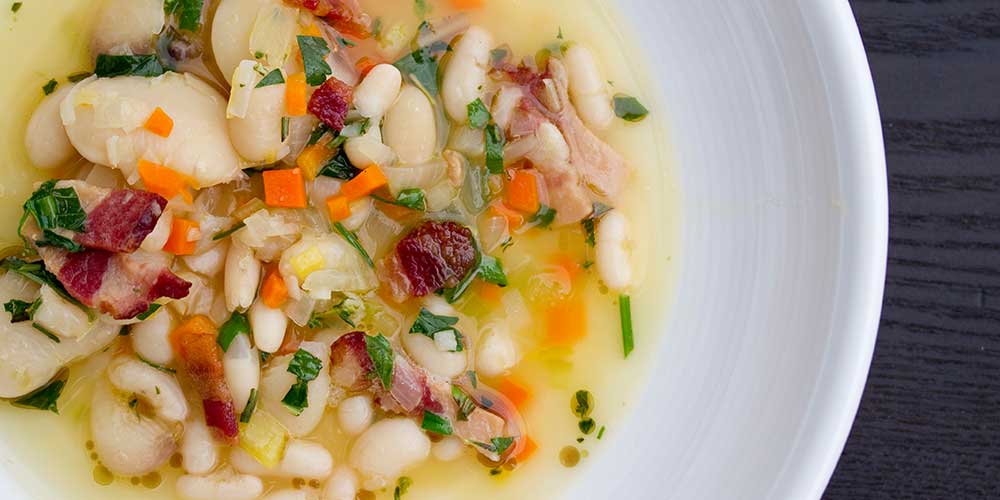 INGREDIENTS
2 cups dry Rice Beans
2 cups dry Giant Peruvian Lima Beans
2 cups dry Marrow Beans
½ lb Bacon, sliced into strips (lardons)

2 quarts Chicken Stock

1 Onion, small diced

½ Leek, small diced

½ cup Celery, small diced

1 cup Carrots, peeled & small diced

3 Bay Leaves

3 tsp + 3 pinches Salt for bean cooking water

1 bunch Fresh Marjoram, chopped

¼ cup Fennel Fronds, chopped

½ bunch Fresh Flat Leaf Parsley, leaves picked & chopped

½ bunch Fresh Mint, chopped

2 tbsp Fresh Rosemary Leaves, chopped

2 tbsp Fresh Thyme Leaves, chopped

Fine Extra Virgin Olive Oil or Delicata Squash Seed Oil to finish
DIRECTIONS
1
Soak the beans overnight in separate containers.
2
Move the beans to separate pots in their soaking liquid (enough to cover by an inch). Add 1 tsp salt and a bay leaf to each. Cook at a low simmer, periodically gently stirring.
3
After the beans have cooked for a while, add a pinch of additional salt to each pot. Add additional hot water as necessary to keep the beans submerged.
4
In a large stock pot, render the fat out of the bacon over medium-low heat until crisped.
5
Check each bean variety and as it becomes al dente, remove it from the heat and drain off the water. Move the beans to a pan to cool, covered with a little olive oil. Rice beans take about 1 hour. Marrow beans and Peruvian lima beans take around 1 hour, 20 minutes.
6
Add the vegetables to the bacon and
sweat
them until translucent & tender.
7
Add the chicken stock, drained beans, salt and pepper to the stockpot.
8
Bring the chicken stock to a
simmer
and add the mint, rosemary, thyme, parsley, fennel fronds, ramps (if desired) & marjoram.
9
Gently simmer the beans until "butter tender."
10
Optional: If you'd like to serve the beans later, transfer them to large, wide pans (we used a foodservice 2" hotel pan). Let them cool to room temperature, then move to the fridge (covered) until you're ready to serve.
Gently reheat before serving. They'll be even better the next day.
11
Serve drizzled with extra virgin olive or delicata oil (we used delicata oil).