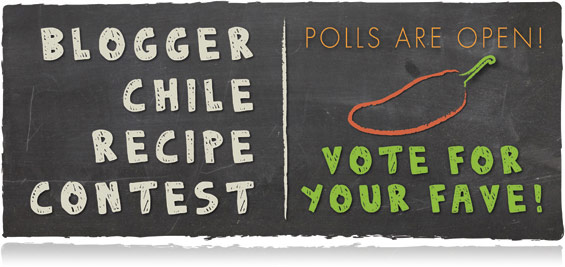 The bloggers participating in this challenge really pulled out their best tricks.  The dried chile recipes they brought to the table are stupendous and cover a huge range of dishes. The Chocolate Azteca Cupcakes from Clearly Delicious were voted first in our poll, but were closely followed by the Tres Chiles Chocolate Cake with Hibiscus Habanero Caramel from Foodalution. Check out all of the delicious submissions below.
Maren's Morsels: Cool and Spicy Habanero Sliders
Just Get Floury: Honey-Habanero Cornbread
Eat Love and Train: Chili Hot Chocolates
Little Dog Lost: Mole Grilled Shrimp Skewers
Culinary Bliss: Vegan Roasted Vegetable Pesto with Dried Aji Amarillo Peppers
Kohler Created: Fall Chili Verde
Knuckle Salad: Sweet Garlic-Chili Roasted Pork with Savory French Toast
Lighter and Local: Chile Cheddar Pull Apart Bread
Food for Thought: Mexican Hot Chocolate Covered Strawberries
Home Cooking Memories: Spicy Black Bean Burgers
Hye Thyme Cafe: Beef and Lentil Harissa Chili
The Bad Girl's Kitchen: Chile Chocolate Tarts with Pastry Cream and Strawberry Sauce
Keep it Simple Foods: White Bean and Onion Soup with Puya Chili Oil Croutons
Fritos and Foie Gras: East-Meets-West Roast Chicken
Two Boos Who Eat: Fajita Marinade
Foodie Wannabe: Moo-Approved Chili
An Opera Singer in the Kitchen: Veggie Chilaquilés with Molé Sauce
Okay, Check it Out: Curry Duck Confit with Red Rice Hash
My Baking Heart: Sweet Heat-Chocolate Chunk Cookies
The Joy of Caking: Kickin Habanero Cheese Crackers
Foodalution: Tres Chiles Chocolate Cake with Hibiscus Habanero Caramel
Clearly Delicious: Chocolate Azteca Cupcakes
Katie at the Kitchen Door: Adobo and Sweet Corn Frittata
Laptops and Stovetops: Beef & Bacon Chili Verde
Restless Chipotle: Chocolate Chile Muffins
Like these chile recipes? Find even more inspiration in our chile recipe collection!