Sri Lankan Blackened Rack of Venison with Coconut Milk Sauce
Makes 4-8 Servings
WINE PAIRING
Napa Valley Merlot
A dark spice crust surrounds beautiful rare-medium rare venison meat, floating on a layer of creamy, savory coconut milk sauce & garnished with crispy fried curry leaves. This recipe is elegant, delicious, and surprisingly easy.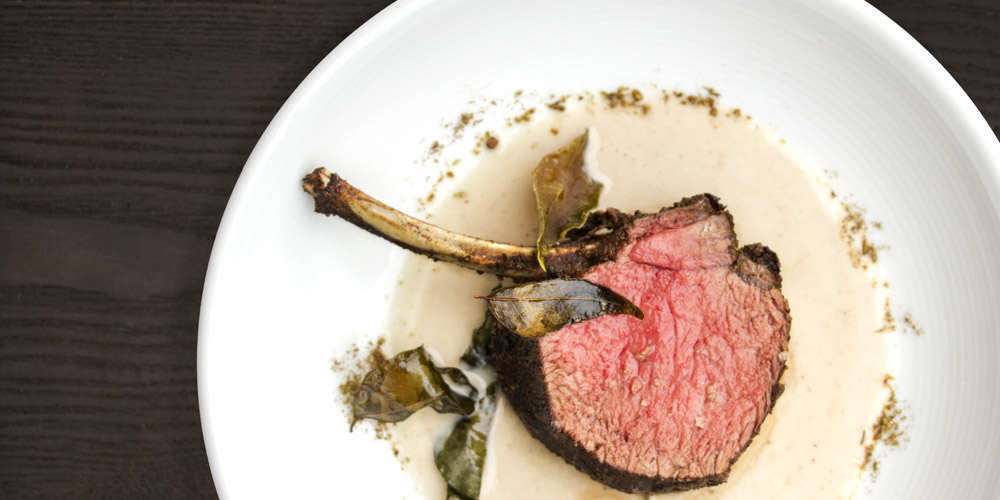 INGREDIENTS
1 can Coconut Milk

1 tsp Colatura Fish Sauce

1 tbsp Canola Oil

1 tbsp Lemon Juice

¼ tsp Salt

Curry Leaves for Garnish

High Heat Oil for Searing (Canola, Grapeseed, Safflower)
Rub

¼ cup of Coriander

2 tbsp Cumin

¼ tsp Cloves

1 tsp Green Cardamom Pods

½ tsp Fenugreek Seeds

1 Cinnamon Stick

1 tsp Fennel Seeds

1 tsp Mustard Seed

½ cup Curry Leaves

1 tsp White Rice

1 tbsp Salt
DIRECTIONS
1
Preheat your oven to 400°F.
2
Toast the rub spices (plus the chile and the rice) in a dry skillet until aromatic & lightly browned. If you have the time, it's best to do this one spice at a time. If not, toast the coriander & the cumin each separately, then toast the rest of the spices together.
3
Break up the aji amarillo chile into pieces and discard as many seeds as possible. Grind all the rub ingredients together (
how to grind spices
).
5
Cut the intercostal meat off of the rack (the thin layer of meat above the rib bones, separated from the eye by a layer of fat & silver skin), and trim any more revealed silver skin off.
6
Optional: to make it easier to cook the rack evenly, cut it in half so the smaller side is separated from the thicker side.
7
Rub the rack with the rub on all sides.
8
Oil an oven-safe skillet with high heat oil. Sear the rack over medium heat, turning, until the spices have browned.
9
Move the skillet to the oven and roast the rack until the piece(s) reach(es) an internal temperature of 125-130°F (rare-medium rare).
10
Once the rack reaches your desired temperature, remove it from the oven and the pan. Let it rest on a clean plate, loosely covered with foil, for 15-20 minutes.
11
Put 1 tbsp canola oil into a pan and get it very hot. Add some curry leaves and stir them in the oil until they crisp. Remove them from the oil to a paper towel to drain and sprinkle them with a little salt.
12
Add the coconut milk to the remaining oil in the pan, along with the juices from the resting plate. Simmer the coconut milk until it reduces in volume by at least 1/3rd. Add the colatura, the lemon juice & the salt.
13
Cut the rack into chops, serve them with the coconut milk sauce, fried curry leaves, and your choice of sides.