Our friend Marc of Baketard is a self-proclaimed cookbook hoarder and his blog is chockablock with drool-inducing savory recipes, but we've seen his sweet side too, and he agreed to share it with our readers! This amazing recipe for sorbet made with our edible pansies is not only stunning to look at, but crazy delicious – we dare you not to sneak seconds…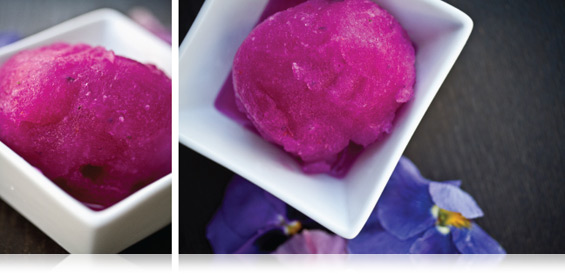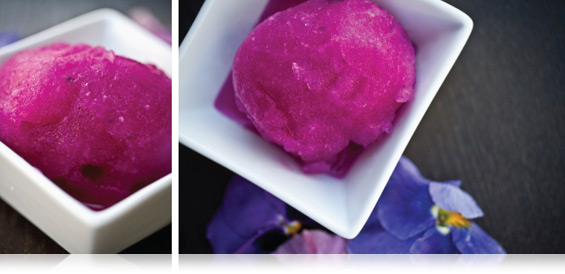 If you love to cook, Spring is the time of year you probably go crazy. All of the rare items become available; things like morels, porcinis, ramps, green garlic, and flowers. Tons and tons of edible flowers. Justin and the team at Marxfoods were kind enough to invite me to join them in their kitchen on a day they were playing with a huge variety which had just arrived. They provided a list of flowers they would have available in advance, and the opportunity to come in to taste, cook, or do a little bit of both. I leapt at the chance, and was surprised to walk into the Marxfoods kitchen to find a stainless steel table covered in every type of flower imaginable. I was dying to jump in (and not just because cocktails were made available immediately after "Hello").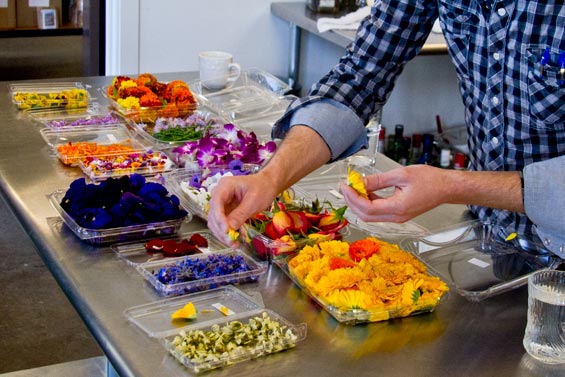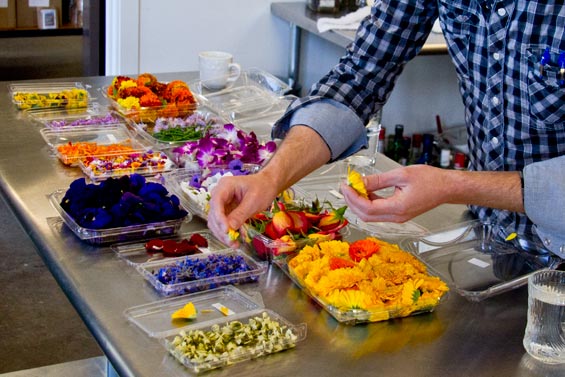 My inclination when I see something as rare as a table full of edible blooms is typically to try something fussy and complicated, but when you're with a group of people you don't know well, there's always risk of coming off like a pretentious douche with that kind of food. Instead, I opted for something I knew was delicious and would be surprising: Black Pansy Sorbet. You won't be the same after you've had pansies in your mouth. Trust me.
This sorbet comes from the Herbfarm cookbook, and is something I tried for the first time when I interned in the restaurant. I was completely blown away at how a few simple ingredients could turn into something so beautiful and delicious. In previous years, I've gone to the nursery when pansies have gone on sale, bought a flat, taken it home, popped all the flowers and ignored the plants just to make this sorbet. Wasteful? Yes. Worth it? Absolutely.
When you make this puree, you will notice it is a deep, dark violet color until the moment you add the lemon juice. The lemon juice instantly turns the puree a vibrant magenta color, making this dish just a little bit more fabulous.
You can do this with any color pansy (they're all edible), so give them a try. This one is the most interesting due to the deep colors, so see what you think. You know what they say: Once you go black….
Just ask Justin. He's still dreaming of having this pansy in his mouth.
1 cup (gently packed) black pansy flowers
1 cup superfine sugar
3 cups cold water
3 tablespoons freshly squeezed lemon juice
Puree the pansy flowers with the sugar in a food processor or blender until they form a smooth paste. Add ½ cup of the water and continue to blend for another minute. Add the remaining 2 ½ cups water and the lemon juice. Freeze the mixture in an ice cream maker according to the manufacturer's directions.
_________
Browse More:
Ice Cream & Sorbet Recipes
Edible Flower Recipes
All Dessert Recipes