Bison Striploin Steaks with Juniper Calvados Sauce, Roasted Fennel & Hazelnut
Makes 4 Servings
WINE PAIRING
Ribero del Duero
Bison Striploin Steaks with Juniper Calvados Sauce, Roasted Fennel & Hazelnut
Bison has a rich, bold flavor, but is exceptionally lean.  This makes it very healthy, but also a good choice for sauces that moisten it.  We've paired it here with a juniper berry, butter & calvados sauce.
We cooked the striploin sous vide for convenience and to help keep it moist, but you could also roast it or slice it into steaks & sear them on the stovetop.
You'll have extra juniper berry butter left over, which can be frozen for long term storage and would be an amazing addition to potatoes and/or any game meats.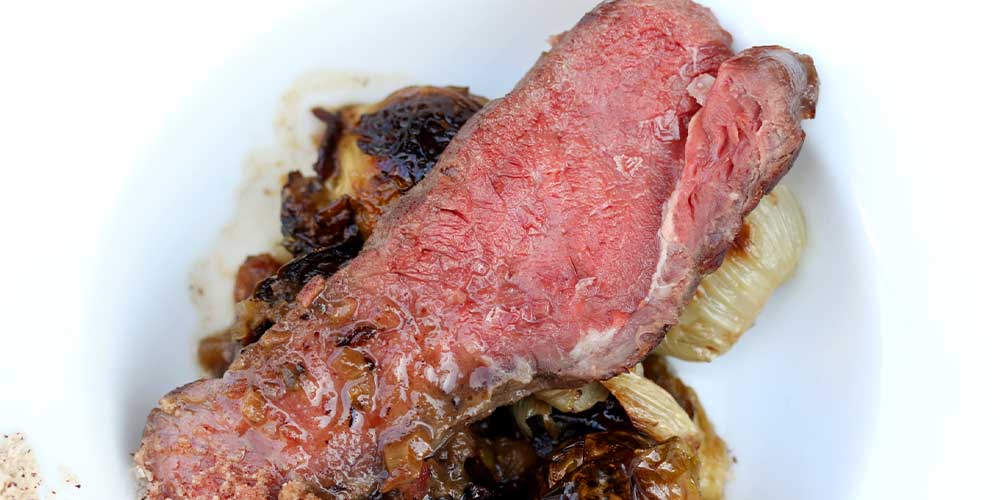 INGREDIENTS
Roasted Fennel:

1 Large Fennel Bulb, cleaned & sliced into thick wedges

1 tbsp Olive Oil

1/2 tsp Kosher Salt
Juniper Butter:

1/2lb Unsalted Butter, softened

½ tsp Juniper Berries

½ tsp Sea Salt

1 tsp Honey
Date & Calvados Pan Sauce:

¼ cup Calvados

¼ cup Beef Stock (lowest salt possible)

1 tbsp Date & Shallot Jam Recipe

2 tbsp of the Juniper Butter
DIRECTIONS
1
Preheat your sous vide bath to 120°F.
2
Season the striploin portion with salt (use less than you would use when searing or roasting) & vacuum pack it.
3
Put the striploin in your sous vide bath, let it return to 120°F, and cook for 2 hours.
4
Make the Juniper Butter:
While the striploin is cooking, grind the juniper berries & sea salt to a fine powder in a spice grinder.
Mash them into the butter, along with the honey, to make a compound butter.
Spread the butter on parchment paper or plastic wrap into a long cylinder.  Wrap tightly & chill thoroughly in the fridge.
5
Toward the end of the bison cooking time, preheat your oven to 400°F.
6
Toss the fennel bulb pieces with their olive oil & salt, spread them out on a baking sheet, and roast them until tender.
7
Remove the striploin from the vacuum bag and dry it off. Sear it on all sides in a hot, oiled pan, just until it develops a browned crust.  Remove it from the pan to rest, loosely covered with foil.
8
Deglaze the pan where you seared the bison with the calvados and beef stock. Simmer the calvados to reduce it by half, then stir in the juniper butter & date shallot jam.
9
Slice the striploin into steaks or thin slices fanned out on plates. Serve them with the roasted fennel bulb, drizzled with the juniper & calvados sauce.