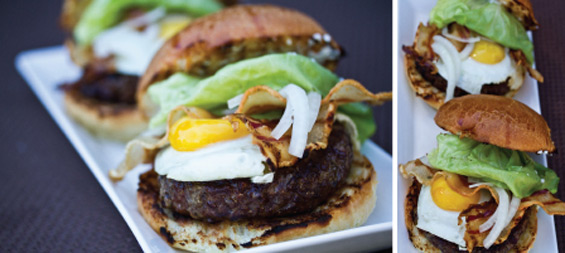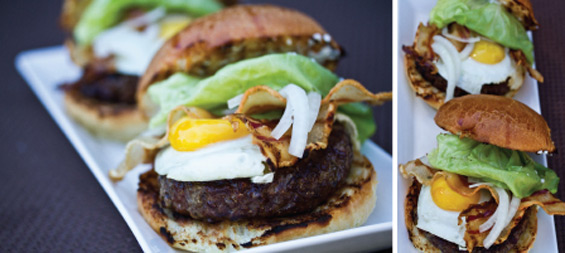 We thought the porcini and caramelized onion kobe burger recipe was as decadent as burgers got. 
We were wrong. 
Really, the ingredients list below speaks for itself, but if you're having difficult imagining the final flavor, imagine this: rich, buttery mangalitsa bacon, balanced with crisp lettuce and tangy pickled onions, overrun with a smooth, creamy egg yolk which blends the flavor of the toppings into the intense beefiness of the Kobe. 
Take your first bite sitting down, lest you be overcome and fall into a swoon.
Bacon Burgers with Sunny Side Up Duck Eggs and Pickled Onions
Drink Pairings: Beaujolais wine or Lambrusco
Ingredients:
Burger Patties (we used Kobe beef burgers)
2 slices per burger, Bacon (we highly recommend buttery unsmoked Mangalitsa Bacon, but you use any variety)
1 Duck Egg per burger (could substitute chicken eggs)
1 leaf per burger, Butter Lettuce
Mayonnaise
Brioche Buns
Plus: Quick Pickled Onions to taste (how to pickle onions)
Directions:
1. Preheat your oven to 400 degrees.
2.  Cover a baking pan with a layer of foil or parchment paper and lay out the bacon slices.
3.  Place the bacon in the oven and roast until cooked and just slightly pliable.


4.  Carefully remove the pan from the oven and set it aside.  Turn off the oven.
5. Grill the burgers (the best way to grill burgers)


6. While the burgers are grilling, fry the eggs sunny side up in an oiled skillet and toast the brioche buns.  Place the cooked bacon on the grill briefly to reheat it.


7.  Once the burgers have finished grilling, put them on the toasted buns, and top each with a fried egg, two slices of bacon, and drained pickled onions. 
8.  Spread a thin layer of mayonnaise on the top of each bun.  Add a single leaf of butter lettuce and serve.
___________
Browse More:
Burger & Slider Recipes
Ground Meat Recipes
Bacon Recipes
Pork Recipes
Beef Recipes