Makes 4 Servings
WINE PAIRING
Gruner Veltliner from Austria or an Oregon Pinot Noir
Crunchy mild raw beets sliced paper thin, savory fennel seeds & rich earthy morels on top of creme fraiche…what's not to love?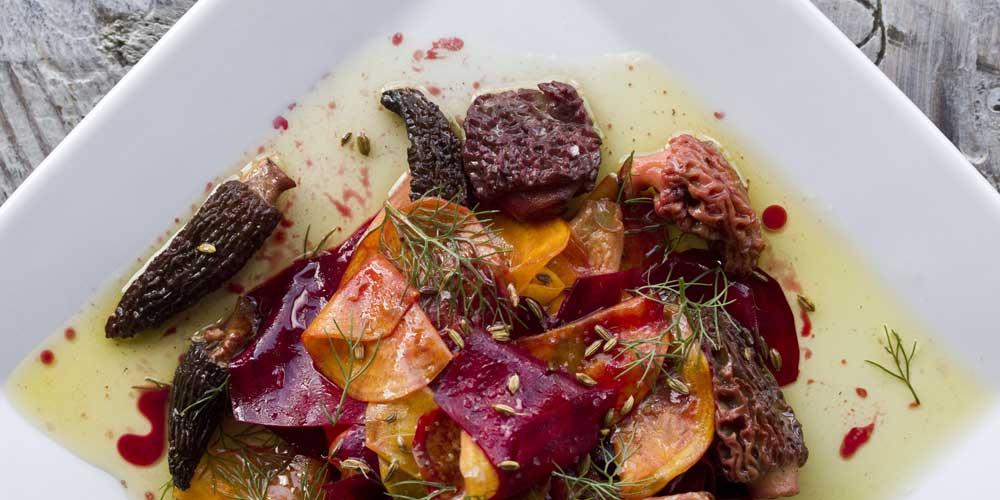 INGREDIENTS
1 Red Beet

1 Golden Beet

Fronds from one Fennel Bulb

2 cups Fresh Morel Mushrooms

2 tsp Fennel Seed

1 cup Chicken Stock

2 tsp Lemon Juice, freshly squeezed

4 tbsp Crème Fraiche

2 tsp Sherry Vinegar

Unsalted Butter

Olive Oil

Salt
DIRECTIONS
1
Lightly toast the fennel seeds until aromatic in a dry pan, tossing frequently.
3
Simmer the chicken stock on the stove until it almost reaches a syrup consistency.
4
Wash & peel the beets. Slice them as thin as possible using a mandolin or v-slicer.
5
Toss the beats in separate bowls with 1 ½ tsp of the chicken broth, a tsp of lemon juice and a 1tsp sherry vinegar, 1 tbsp of olive oil added to each.
6
Cut the fennel fronds off the bulb, then rinse & dry them.
7
Add most the fennel fronds, a couple pinches of salt, pepper and 1 tsp fennel seed to each bowl of beets.
8
Spread a tbsp of crème fraiche on each plate.
9
Plate the beets together along with the butter sautéed morels.
10
Sprinkle with a little fleur de sel, fennel seed, the remaining fennel fronds, and a drizzle of olive oil.