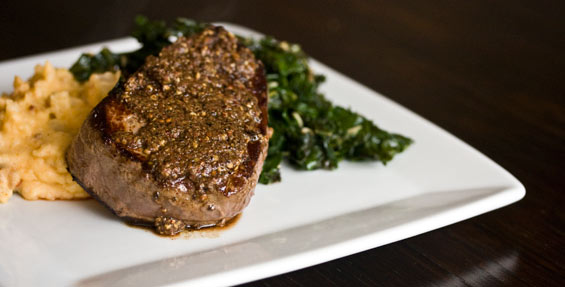 Beef Tenderloin au Poivre
Steak au Poivre (aka Pepper Steak) is a classic French dish that offsets the richness of beef steaks with a cream sauce packed with potent whole or cracked peppercorns & boquerones anchovies.
This variation omits the cream, and instead blanches the peppercorns three times, tempering their spicy heat while leaving the rest of their flavor intact. The finished flavor is intensely peppery without being too spicy. The peppercorns also give the very soft tenderloin steaks a bit of crunch, plus some floral notes from the pink peppercorns. The chorizo potatoes offer some sweetness, cream to cool down the pepper, and a finishing burst of contrasting spice.
If you want to tone down the pepper while weakening the spice further (and make this dish more like the traditional au Poivre), deglaze the steak pans while the beef is resting with a little red wine, stir in some cream, reduce until it coats the back of the spoon, and pour over your steaks on the plate.
Drink Pairings: Northern Rhone Syrah or California Syrah
Ingredients: (Serves 6)
48oz Tenderloin (we recommend grass fed tenderloin, kobe beef tenderloin, or bison tenderloin)
OR six 8oz Tenderloin Steaks
2 tbsp White Peppercorns
2 tbsp Pink Peppercorns
2 tbsp Tellicherry Peppercorns
4 Boquerones
2 tbsp Toasted Sesame Oil
6 cups Kale
2 Garlic Cloves, finely diced
Salt & Pepper to taste
Lemon Juice
Olive Oil
Grapeseed or non cold-pressed Olive Oil for searing
Unsalted Butter
Plus: Chorizo Mashed Potatoes Recipe
Directions:
1. Preheat your oven to 325 degrees.
2. Trim any visible silverskin off the surface of the tenderloin.

3. If using whole tenderloin, slice it into 8oz steaks.

4. Add all three colors of peppercorns to a pot of water and bring it just to a boil.
5. Once the water has boiled, drain it off the peppercorns, replace with fresh water, and boil again. Repeat with fresh water one more time.
6. Once the peppercorns have boiled three times, drain them and spread them out on a tray to dry out.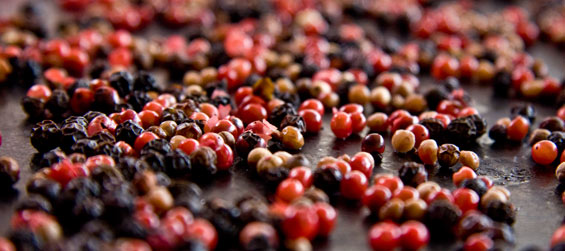 7. In a food processor combine the dried peppercorns, boquerones and sesame oil. Puree.

8. Wash the kale, remove the center ribs and rough chop it into bite sized pieces.
9. Heat some olive oil in a frying pan, and add the garlic. Sweat until fragrant.

10. Add the kale and cook until tender, tossing occasionally after it has started to wilt down. If the pan starts to look dry, add a little more olive oil.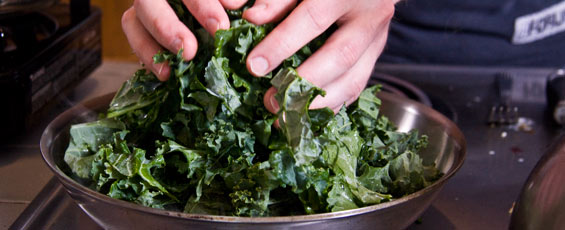 11. Season the kale with salt and a touch of lemon juice.
12. Season each steak with salt and pepper.
13. Get a frying pan with grapeseed oil and a little butter in it very hot. Add the steaks (you can fit up to three in a 9 inch pan without overcrowding).
14. Sear each side of each steak to develop a dark brown crust.
15. Once the steaks have seared, move them into the oven to finish cooking through to about 5-10 degrees below your desired internal temperature (they will carry over cook the rest of the way). Don't have a meat thermometer? Use the technique in How to Tell Meat Doneness by Feel to estimate.
16. Remove the almost-finished steaks from the oven and rub them with the peppercorn paste. Cover and let them rest for five to ten minutes.

17. Plate with the kale and mashed potatoes. Serve.

___________
Browse More:
Steak Recipes
Grass-Fed Beef Recipes
Kobe Beef Recipes
Tenderloin Recipes
Spice Recipes
Boquerones Recipes