Bahn Xeo Crepes w/ Maitake Mushrooms & Kurobuta Pork
Makes 4 Servings
DRINK PAIRINGS
Dry Riesling, Gewürztraminer or Vietnamese Beer
Bahn Xeo are fluffy Vietnamese crepes made with rice flour, coconut milk, onions and spices. They're naturally gluten free and delicious. Here we've stuffed them with sautéed kurobuta pork loin & maitake mushrooms.
Bahn Xeo are eaten a bit differently from other crepes. Diners wrap a portion of the filled crepe in a lettuce leaf with some of the fresh herbs and cucumber, then dip it in the nuoc mam sauce & enjoy.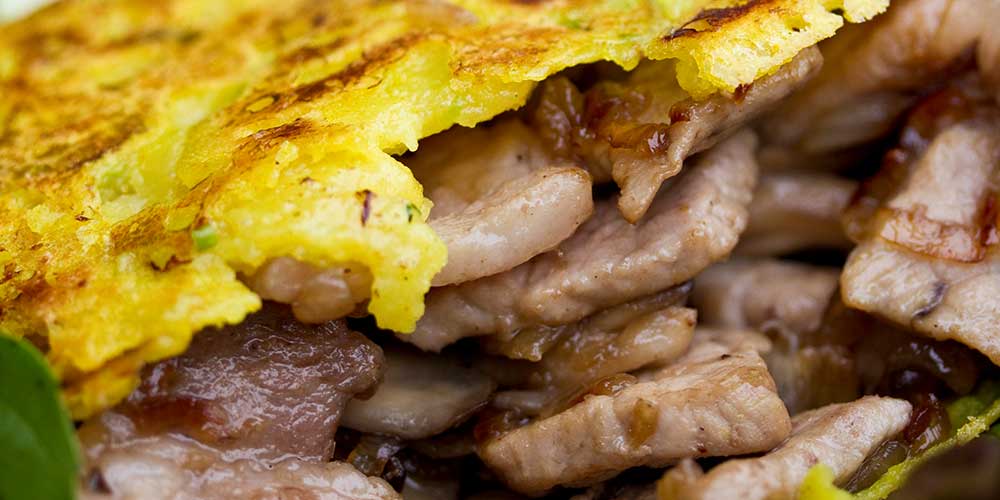 INGREDIENTS
Crepe Batter:

1 cup Rice Flour

½ tsp Salt

½ tsp Sugar

½ tsp Ground Turmeric

½ tsp Curry Powder

2 Green Onions, sliced (white & green parts)

¼ cup Coconut Milk

1 ½ cups Water
For the Platter:

1 head of Red-Leaf Lettuce

Cucumber, thickly sliced on the bias

Several Fresh Herbs of Your Choice:

Cilantro

Thai Basil


Mint
DIRECTIONS
1
Cut the core off the bundle of maitake mushrooms (you can use it in stocks) & break apart the mushrooms.
2
Cut the bone off the loin chop & slice it into bite size pieces.
3
Mix together all the crepe batter ingredients in a large bowl.
4
In a hot cast iron skillet or frying pan, sauté the shallot until caramelized and a little crispy.
5
Add the maitake mushrooms and continue to sauté until they brown.
6
Add the sliced pork and sauté briefly, just until cooked through.
7
Pour a quarter of the crepe batter into a well-seasoned large crepe pan or non-stick pan.
8
Cook until the edges get crispy and lacy, then flip and cook the opposite side for just a minute. Remove the crepe from the pan. Cook the other three crepes in the same way.
9
Fill each crepe with the matsutake, pork & shallot mixture, then cut a small line into the center with a metal spatula (a quarter to halfway through the crepe, not deep enough to bisect it). Fold the crepe over.
10
Serve the crepes with the lettuce, cucumber, fresh herbs and nuoc mam sauce.