Vietnamese Nuoc Mam Sauce
Makes 1 1/2 Cups (with carrot)
Nuoc mam sauce is sweet, tangy and quite spicy. It's easy to make and a great accompaniment to all sorts of Vietnamese and Vietnamese-inspired dishes.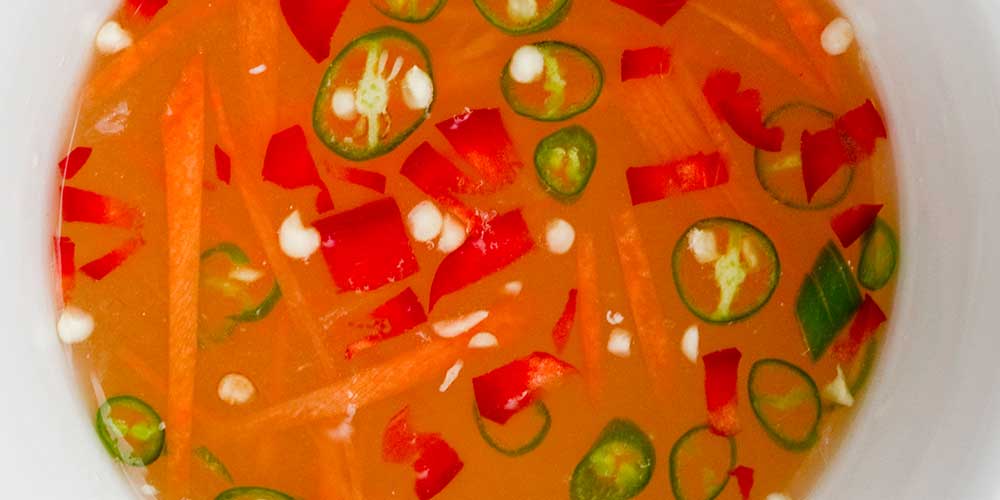 INGREDIENTS
2 ½ tbsp Red Boat Fish Sauce

4 tbsp Granulated Sugar

Juice of 4 Limes

Red & Green Fresh Thai Chilies to Taste (we used three. You could substitute Serranos, Red Fresnos or Red Jalapenos)

1 Garlic Clove

1/2 Cup Water
Optional Garnish:1 Tbsp Carrot, cut into thin strips (julienne)
DIRECTIONS
1
Peel & finely mince the garlic clove, then scrape the garlic against your cutting board with your knife blade until it turns into a fine paste.
2
Vigorously stir the sugar into the lime juice to separate any clumps.
3
De-stem and thinly slice the Thai chilies into rounds. Do not de-seed them.
4
Add the Thai chilies, water, fish sauce, garlic paste and (if desired) the carrot to the sugar and lime juice mixture. Stir to combine and dissolve all the sugar.
5
Optional: For better flavor & more heat, refrigerate the sauce for an hour before use.